Angel YE Held Technical Seminars in India
30th April 2019
Angel Yeast Extract Division held two successful seminars with our distributors in Bombay, India from 10th April to 12th April 2019. The seminar themed The Application of Yeast Extract in Indian Savory Foods.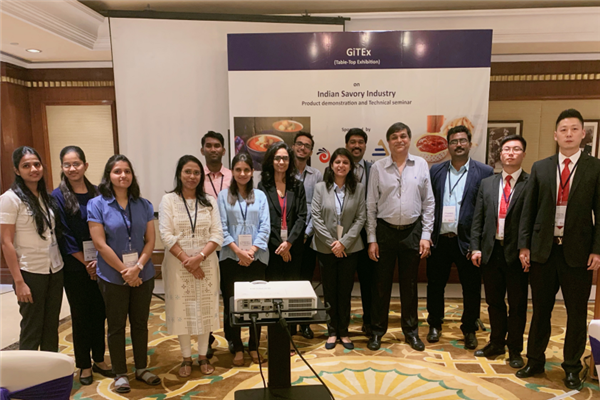 During the seminar, our regional manager, Bob Xu, introduced the development history of Angel, shared the basic knowledge of yeast extract, and the mechanism of how yeast extract worked to enhance Xian/Umami taste, reducing sodium & sugar, and replacing MSG in bouillons, instant noodles, flavorings, and snack foods.
Our R&D expert, Chris Li, gave a specialized explanation of this unique natural origin ingredient-Yeast Extract, demonstrated its versatile functions in food applications, and shared his expertise in the food industry. Then, the local R&D expert analyzed the market status and development trend of snack foods.
After the seminar session, our R&D experts prepared dishes of chips, mayonnaise, vegetable bouillons adding Xian/Umami Taste Yeast Extract, compared with the taste from the control groups for the attendees to have a sensory evaluation. The interactive seminars have helped customers to build a clearer idea of yeast extract, and a more vivid feeling of Xian/Umami taste and Hou-feel/Mouthfulness that yeast extract brings out. It is a substantial opportunity for us to exchange ideas with customers and provide our professional application solutions for manufacturers to create savory food recipes. Through this seminar, Angel's global image and influence have been further enhanced, and our local distributors' confidence has been strengthened.
Thanks for your interest in joining our seminars. We have enjoyed providing the technical exchange seminar to boost the local market development. We are happy to continue to do so. See you at our next seminar.
---
About Angel Yeast Extract-Savoury:
Angel YE (yeast extract) made from edible yeast, by degradation the protein and nucleic acid in the yeast cells into nutritional seasonings with the application of modern biotechnology, has the advantages of increasing the fresh flavor, reducing salt, balancing the odor, strong tolerance and food properties, which promotes the global healthy operation of salt reduction and "clean label ".

About Angel:
Angel Yeast Company is a high-tech listed company specializing in yeast and biotech. Product business covers Yeast and Baking, Yeast Extract-Savoury, Nutrition & Health and Biotechnology fields. It is one of the world's leading companies in the yeast industry. Angel has 12 holding subsidiaries and provides products and services for more than 150 countries and regions.
http://en.angelyeast.com/

Press Contact:
ANGEL YEAST CO.,LTD
Address: 168 Chengdong Avenue, Yichang, Hubei 443003, P. R.China
Tel: +86-717-6369520, 6369558
Fax: +86-717-6370680
Email: aie@angelyeast.com
---
---