Ferment Essence FG01
Introduction
Galactomyces is a genus of yeast which is rich in amino acids, vitamins, enzymes and minerals. Ferment Essence FG01 is a ferment filtrate which was obtained after the fermentation process of Galactomyces in culture medium. The beneficial metabolites which FG01 contains are the secrets of a healthier skin, with multifunction of anti-aging, whitening and brightening.
Efficacy
1. Whitening
Right and left face skin of 25 subjects was randomly selectedas the test area, the right face skin was applied with the samples (5%), the left face skin was applied with blank control samples. The melanin MI value of the face skin was tested weekly.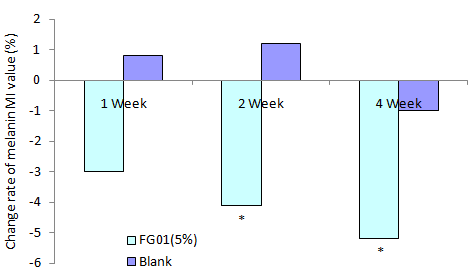 Change rate of melanin MI value during the tests (*p<0.05)

Before the test After the test
Improvement of skin after the tests
The test results showed that FG01 can significantly reduce the melanin MI valueof the testing skin (P<0.05), showing that FG01 was efficient in skin whitening.
2. Anti-wrinkle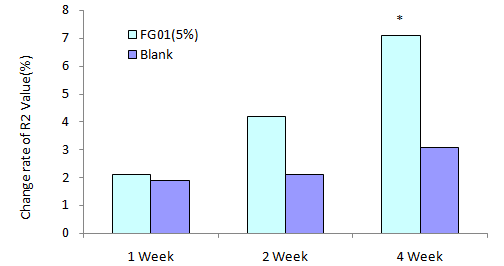 Change rate of R2 value during the tests (*p<0.05)
Facial skins of 20 subjects were selected as the test areas, the skin elasticity before and after the tests were measured using skin elasticity tester. R2 value is the ratio of the skin springback value without pressure to the skin maximum value of stretch with pressure. During the test of 4 weeks, the R2 value of the samples was increasing, and the R2 change rate of the samples was significantly higher than the control groups.
3. Free radicals scavenging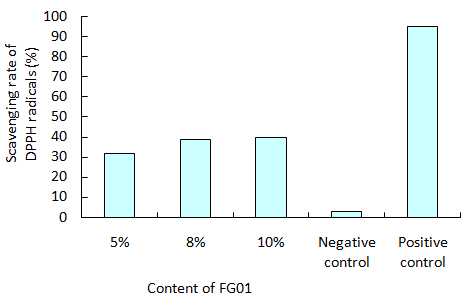 Scavenging rate of DPPH radicals
Free radicals, which are harmful compounds generated during the oxidation reaction in human body, can damage the skin tissues and cells, which cause aging effects. The results of the efficacy tests showed that FG01 were effective in the scavenging of DPPH radicals.
Benefits and Claims
• From a natural and special strain of yeast- Galactomyces
• Rich in skin beneficial metabolites
• Normalizing skin PH balance and skin oil-water balance
• Increasing skin elasticity, skin smoothing and tightening
• Whitening, anti-aging, moisturizing, brightening
Formulating
• INCI name: Galactomyces ferment filtrate, water
• Recommended use level: 2%- 10%
• Recommended working pH: 3.5-5.5
• Recommended working temperature: £45 °C
Application
• Whiteningproducts
• Skin nourishing and refreshing products
• Moisturizing and anti-aging products
• Clear and transparent liquid
• Applicable to all kinds of personal care products
Stability and Storage
Shelf life: 12 months
Store in a cool dark place. (Store it at a temperature below 10°C is highly recommended. Keep package tightly closed, use contents quickly after opening.)
Contact Form