Brioche bread premix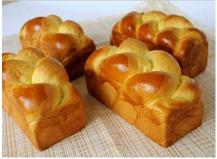 Description: This product is suitable for all types of egg-enriched soft roll dough such as braided bread, Brioche making.
Advantage:
Increase bread volume and oven spring.

Impart the bread good mouth feel

Improve the shelf life.
EXAMPLE:
Brioche

Ingredients

(g)

High glutin flour

1000

Egg

300

Margarine

280

Water

150

Angel instant dry yeast

30

Salt

10

Frocoglucose syrup

300

Brioche premix

50

Procedures:
1:Mix all the ingredients except margarine at low speed for about 3 min..
2:Add a half of the margarine and continue mixing until dough is developed 70%.Finally continue adding the remaining margarine and mixing until dough is developed well. The dough temperature is around 30℃.
3: Mould the dough and make braided dough as desired.4: Proof at 38℃, 80% R.H. for 1hour. Brush egg on the surface of the dough after fermentation and bake at 160℃of the top temperature and 210℃of the floor temperature for about 25min.
Shelf life: 12 months
Packaging: 5kg / bag 1kg / bag X10
Contact Form