Puff premix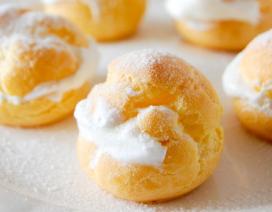 Description: This product is suitable for all types of cream puff making.
Advantage:
More simply producing puff
More crispy and better mouth feel with end puff
Also suitable for home-made
Shelf life: 12 months
Packaging: 5kg / bag 1kg / bag X10
EXAMPLE:
Cream Puff

egg

1700g

water

1100g

Vegetable oil

(or Margarine)

700g

Puff premix

1000g

Procedures:
1:Mix egg, water and oil well at low speed.
2:Add puff premix and mix at medium speed until getting smooth paste.
3: Fit a large pastry bag with a plain tube. Fill the bag with the paste. Pipe out round mounds of dough as needed in diameter on the baking tray.
4: Bake at 200℃for 10 min., then lower the heat to 170℃and continue baking for 30 min.5: When cool, cut a slice from the top of each puff. Fill with whipped cream.
Contact Form