In summer of 2019, we select Angel BF16 to brew lagers
April 23, 2019
By Guang Xin
Cheng Yong-qiang was borned in Inner Mongolia, located in the north of China. He is a decisive, gallant and steady young man and possesses the characteristics of the 1980's. He always encourages himself to try something new and accept new trend during life. Once as a well-known restaurant boss, and now he is the founder of Purity Craft Beer Brewery (PCBB) in Lingshui Hainan province, located in south of China.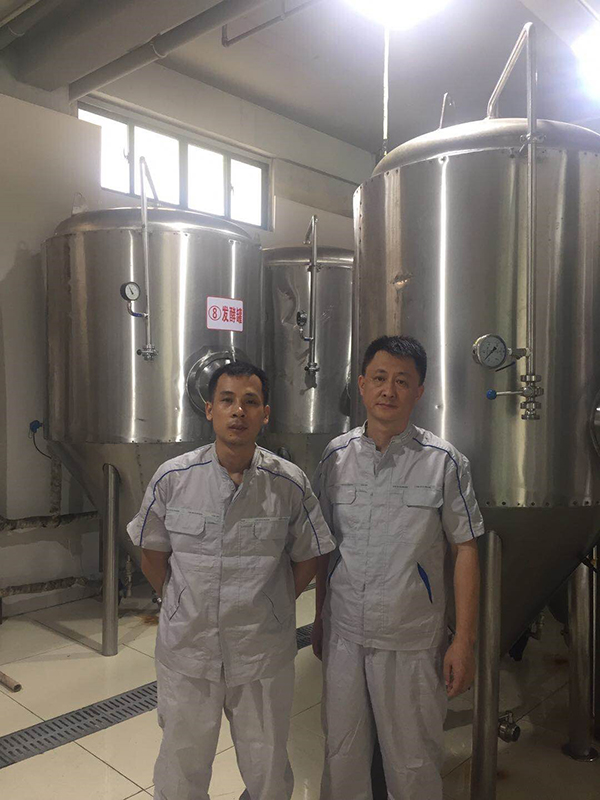 Cheng (right) and his brewer partner
Cheng likes drinking while having a rest and many friends around him also have the same habits, so they usually hold a party to taste new beer and talk about changes of life.
One day, when they were talking about the new trend of Craft Beer in China since 2015, someone shared a group statistics about the production and imports of beer between 2008 and 2016. Cheng was lost in thought, and he decided to try something different.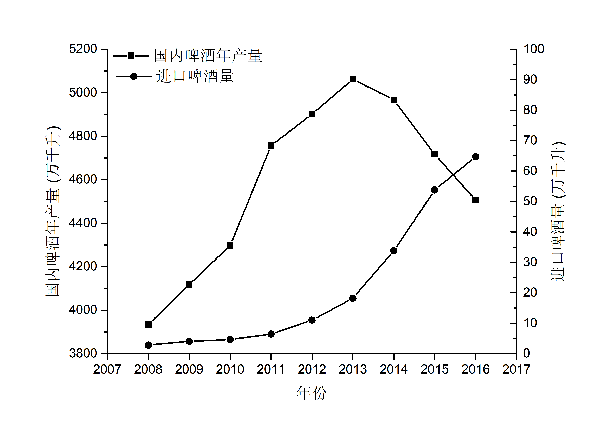 In June 2017, although he had little experience in brewing beers, he invested 1.5 million RMB in building PCBB in Hainan province resolutely.
However, it was never so easy to run a craft beer brewery well.
It was such a hot summer holiday, but the sales outlets just saled a little beer and even some frequenters to PCBB would never come back again. Once he thought of those, his heart would be pain. All of the money would be wasted and he would be a poor failer at last, he began to worry.
What was wrong?
Was the price too much to be accepted ? Was the taste not so good as expected?
Or should the gate of the brewery be decorated more beautiful?
Cheng came into contact with Old Brew Master company in Wuhan through a friend in craft beer group. Then Tan, a senior brewer of OBM, carried on the technological exchange and adjust many details, from equipment maintenance, selection of raw materials, formula, tasting, pricing and so on.
While making sure all adjustments were in place, Tan decided to brew a new lagers using BF16, a lager yeast from Angel, to confirm the compatibility between brewing process and the equipment.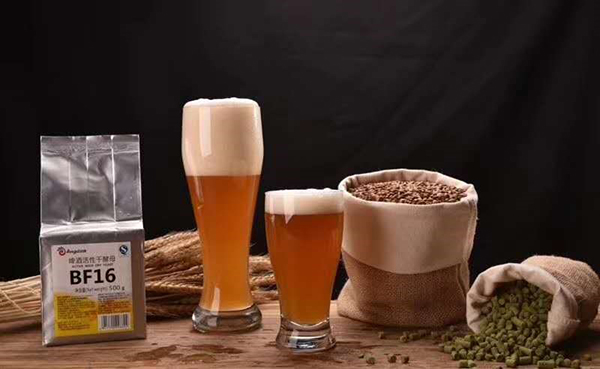 15 days later, a surprise appeared.
"We just plan to test the adjustments, but I'm really fascinated by the new lagers since having a taste. I like beers very much, and I have never tasted such a different one, clear clean bright and drinkable, slight sweetness to stay happy……", Cheng said exitedly.
From then on, PCBBhad engaged with the lagers. After many times of minor adjustment later, they got a stable lagers with the best quality luckily.
Finally, the craft lagers from PCBB was on sale in May 2018 and gained much good reputation as expected.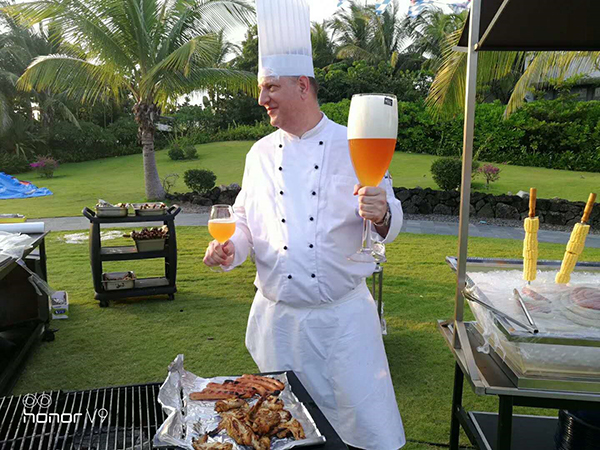 "When introducing the lagers to my friends, I won't be more pleased", cheng said.
The nice lagers eliminated the ever confusion in his heart and the price was also 30 yuan RMB per liter, but business was getting better and better. Daily sales gradually increased from the original 100L to 500 L more or less, and more and more frequenters would like to come back again.
The nice lagers from PCBB was fermented at 11℃ for 18 to 19 days. So a set of equipment including 3 one-ton tanks and 3 two-ton tanks was not enough at weekend, then he made the decision immediately to increase another set of equipmentwith 4 two-ton fermentation tank to meet the demands of daily. When all the tanks began to work, the "problem" was resolved well.
At his spare time, Cheng began to try to recycle the lager yeast, and he could use 3 or 4 times repeatedly now. "If there is no excellent microbial control process, recycling use is not recommended, or maybe it just not a risk". Cheng said.
At present, Cheng's new beer gradually are accepted by the hotels, night markets and bars, and he is planning to cooperate with Sheraton Hotel in Sanya.
"We hope that every friend coming to Sanya and Lingshui can be more easily to purchase the new craft beer from PCBB fermented by Angel lager yeast BF16", Cheng is full of hope in the future.
When refering to how to use BF16, Cheng thinks a moment and shares with us the following three tips:
1. As we all know, lager yeast usually is used at cool tanks, and I find that 11℃ is suitable for the beer style.
2. Yeast BF16 recommended dosage is 0.8 to 1.5 g/L. I think 0.8 g/L is enough, and it begins to work after about 48 hours. Of course, if increasing the dosage or using after re-activated inoculation, it maybe start much earlier, so that some potential risks during brewing could be released in time.
When brewing pure lagers, details is even more important. If it tastes a little acid, the microbial of beers indicators "alarm", and brewers should pay more attention to cleaning and disinfection and other details.
Angel can provide brewing yeasts, ingredients and related technical services for the production of wine, beer, and other brewing liquor. All our products are natural, safe, and of high quality. With the current energy shortages around the world, the production of fuel ethanol through yeast fermentation has become an inevitable trend.
Angel Yeast Company is a high-tech listed company specializing in yeast and biotech. Product business covers Yeast and Baking, Yeast Extract-Savoury, Nutrition & Health and Biotechnology fields. It is one of the world's leading companies in the yeast industry. Angel has 12 holding subsidiaries and provides products and services for more than 150 countries and regions.
Published by Guangxin liu
Senior technical engineer
Angel Distilled spirits and Biofuels Division
For more media information, please contact:
Angel Yeast Co., Ltd.
Yichang, Hubei, China
Ryan Wu
Tel.: +86 717 6353619
Email: wusy@angelyeast.com
en.angelyeast.com
---
---