New study of Angel yeast beta-glucan shows efficacy in improving Alzheimer's disease
Sep.18, 2020
by Jimmy Fu
A recent study published by Angel Yeast Co., Ltd. on International Journal of Biological Macromolecules attracted much attention. Researchers found that yeast beta-glucan was related to a series of gut-brain axis events and can improve neuroinflammation and brain insulin resistance, which means that yeast beta-glucan may prevent Alzheimer's disease. This study broadened the potential applications of yeast beta-glucan as a novel dietary supplement to prevent early-stage pathologies associated with AD.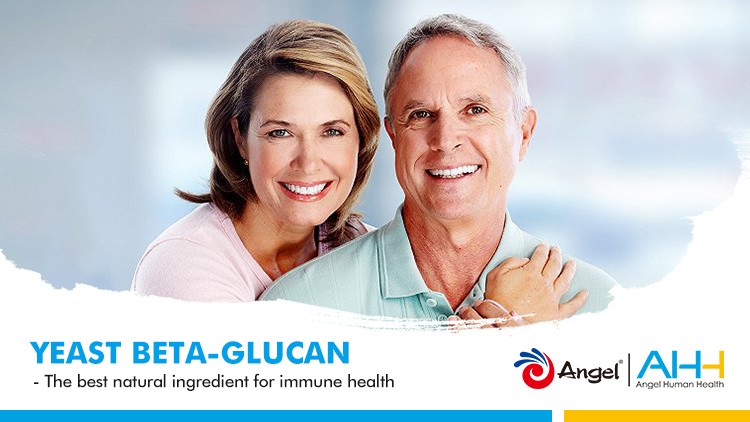 Alzheimer's Disease (AD), as a growing global public health issue, is a progressive neurodegenerative disorder characterized by dysfunction of memory and cognition. The neuropathological hallmarks of AD include amyloid-beta (Aβ) plaques and hyperphosphorylated tangles of tau-protein. However, the exact cause of AD remains unknown, and no effective treatments have been adopted in the clinic at present.
Accumulating evidence indicates that intestinal microbiota plays an important role in neurodegenerative disorders, and cognitive impairment in AD is likewise associated with the imbalance in microbiota. These results demonstrated that intestinal flora disturbance may play a major role in the development of AD progression, and the therapy for maintaining the stabilization of gut microbiota may provide a new direction for the treatment of AD.
Yeast beta-glucan is a polysaccharide derived from Saccharomyces cerevisiae, with featured molecular structure of a linear beta-(1, 3)-glucan backbone with beta-(1, 6)-linked side chains. It shows stronger biological activities than other sources of beta-glucans especially in immunity enhancing, and its molecular weight influences its biological activity. S-beta-Glu (small-molecular yeast beta-glucan) and M-beta-Glu (macro-molecular yeast beta-glucan) have the same molecular structure, the difference between them is the size of the molecular weight (S-beta-Glu: 220KDa, M-beta-Glu: 800KDa) .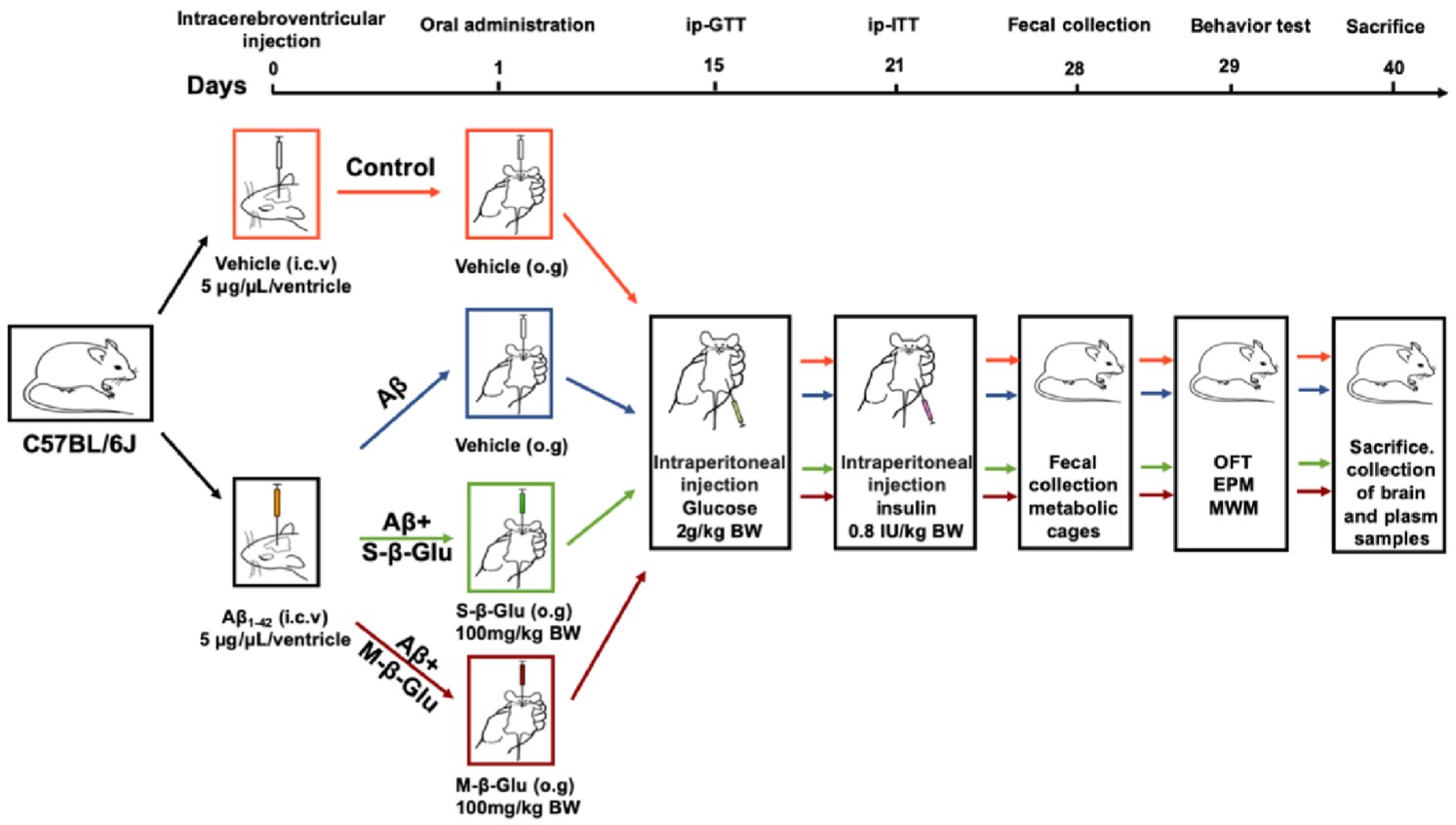 In this study, forty male wild-type C57BL/6J mice were randomly distributed into four experimental groups (n = 10, control, Aβ, Aβ+ S-beta-Glu and Aβ+ M-beta-Glu group). The mice in Aβ group were received an i.v.c. Aβ1-42 injection; the mice in Aβ+ S-beta-Glu group were received an i.v.c. Aβ1-42 injection and administrated oral gavage S-beta-Glu for four weeks; the mice in Aβ+ M-beta-Glu group were received an i.v.c. Aβ1-42 injection and administrated oral gavage M-beta-Glu for four weeks. Intraperitoneal glucose tolerance test (ipGTT) and intraperitoneal insulin tolerance test (ipITT) were performed at 15th day and 21th day respectively. The mice fecal samples were collected using metabolic cages at 28th day. As part of the study, the mice's behavior on AD, gut microbiota and metabolites, immune-related cytokines, as well as glucose tolerance were measured in the study.

The results showed that yeast beta-glucan exhibited evident alterations of the composition of the gut microbiota, especially in some beneficial bacteria and inflammatory-related bacteria such as lactobacillus, bifidobacterium. Moreover, M-beta-Glu and S-beta-Glu ameliorated neuroinflammation and brain insulin resistance (IR), which played a major role in the process of AD pathology.
The authors hypothesized that yeast beta-glucan might attenuate AD-like cognitive impairment by modulating the gut microbiota, and the potential mechanism might be associated with hippocampal IR, making yeast beta-glucan treatment a promising strategy for prevention or delay of AD. The potential mechanism for the cognitive-enhancing effect might be correlated with alleviating neuroinflammation and brain IR.
"Furthermore, we also observed that Aβ-induced impairment of glucose tolerance and reduction of peripheral insulin sensitivity were alleviated by S-beta-Glu and M-beta-Glu." said Dr. Xu, head of the research from Tongji Medical College.
Besides, the study clearly showed that Aβ injection induced aberrant structure of the gut microbiota and reduced the SCFAs levels in feces and hippocampus, demonstrating a contribution of gut dysbiosis in AD mice.
"Nowadays, AD has become a global health problem, this study unveiled the relationship between yeast beta-glucan and AD, presenting a potential way to improve AD." Said Poshy Zhang, R&D director of Angel Yeast Human Health Division.

(This article was first published here on www.nutraingredients.com)

---
About Angel Human Health:
Specialized in yeast and fermentation, AHH is committed to developing innovative, differentiated, science-based functional ingredients and customized solutions, to help our customers get enduring success, as well as contribute to a healthier and sustainable world together.

About Angel:
Angel Yeast Company is a high-tech listed company specializing in yeast and biotech. Product business covers Yeast and Baking, Yeast Extract-Savoury, Nutrition & Health and Biotechnology fields. It is one of the world's leading companies in the yeast industry. Angel has 12 holding subsidiaries and provides products and services for more than 150 countries and regions.
Press Contact:
ANGEL YEAST CO., LTD
Address: 168 Chengdong Avenue, Yichang, Hubei 443003, P.R.China
Tel: +86 717 6369570
Email: Nutritech@angelyeast.com
---
---