May 1, 2021
By Xiong Changwu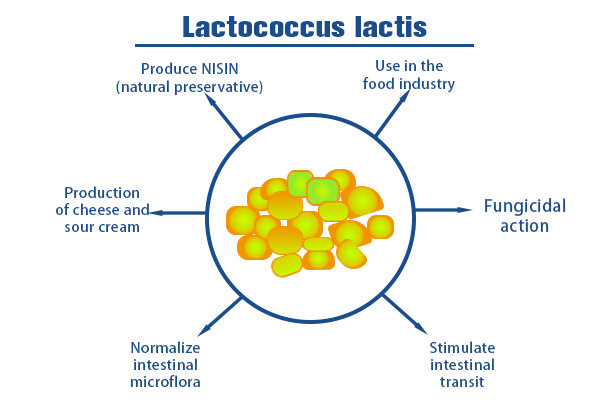 Purpose

To investigate the effect of different yeast extracts (FM808, FM860, FM803, FM502, FM902, FM985, FM986) on the growth of Lactococcus lactis
Strain:Lactococcus Lactis
Culture medium (g/L):
Yeast Extract 20.00, Glucose 20.00, Dipotassium Hydrogen Phosphate 2. 00, Sodium Acetate 5. 00, Diammonium Citrate 2. 00, Magnesium Sulphate 0.58, Manganese Sulfate 0.20, pH6. 8~7. 2
Culturing conditions:
The L. lactis seed was prepared in a shake flask and was inoculated into to a 3L fermentor containing 2. 5L of liquid medium at an inoculation rate of 4%. The pH was controlled at 6. 3 with 30% NaOH. The agitation speed was 100 rpm, and the culture temperature was 37 ℃.
Testing result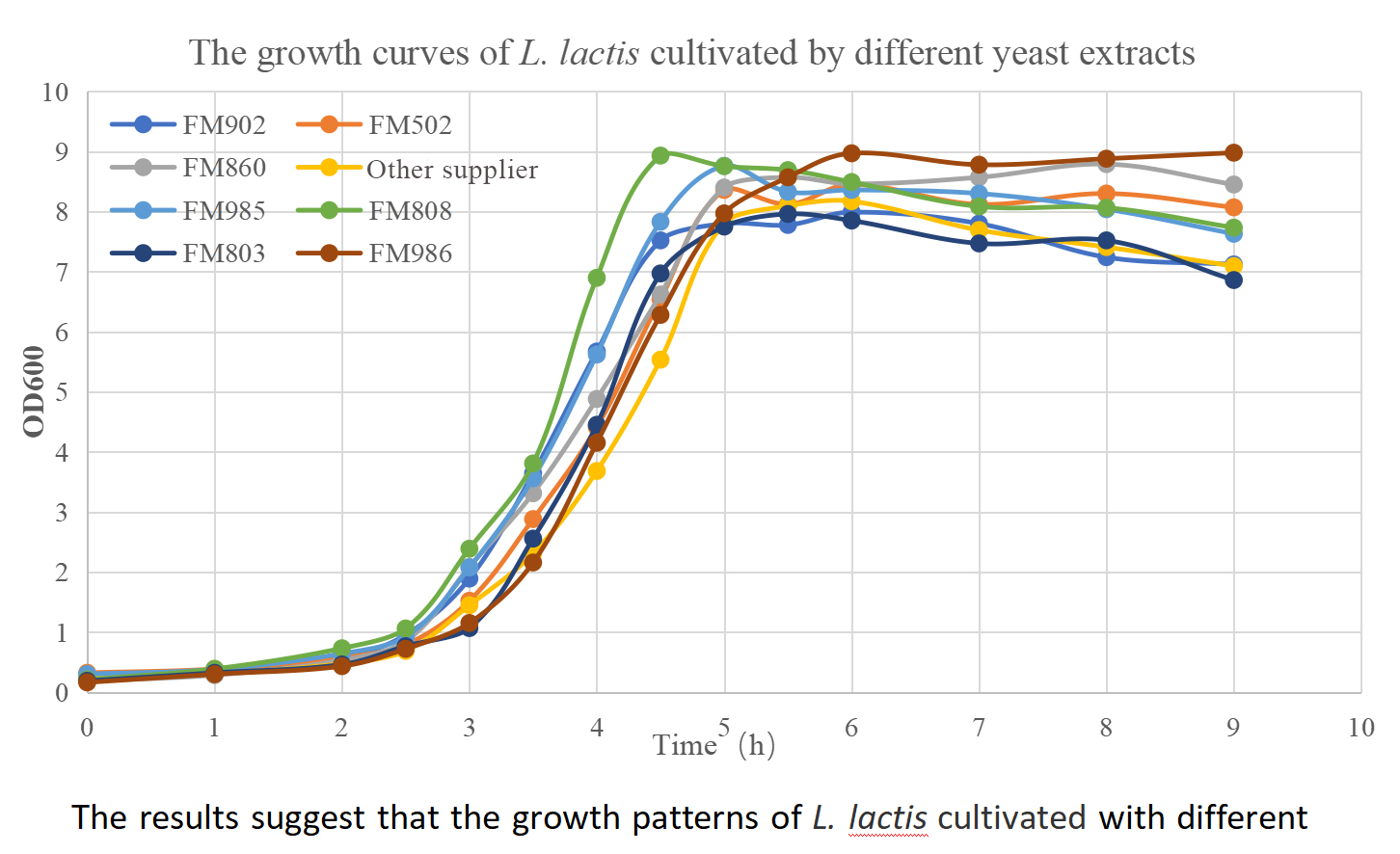 The results suggest that the growth patterns of L. lactis cultivated with different yeast extracts were very similar, but the maximum growth was achieved with FM808 at 4. 5 hours and with FM986 at 6 hours.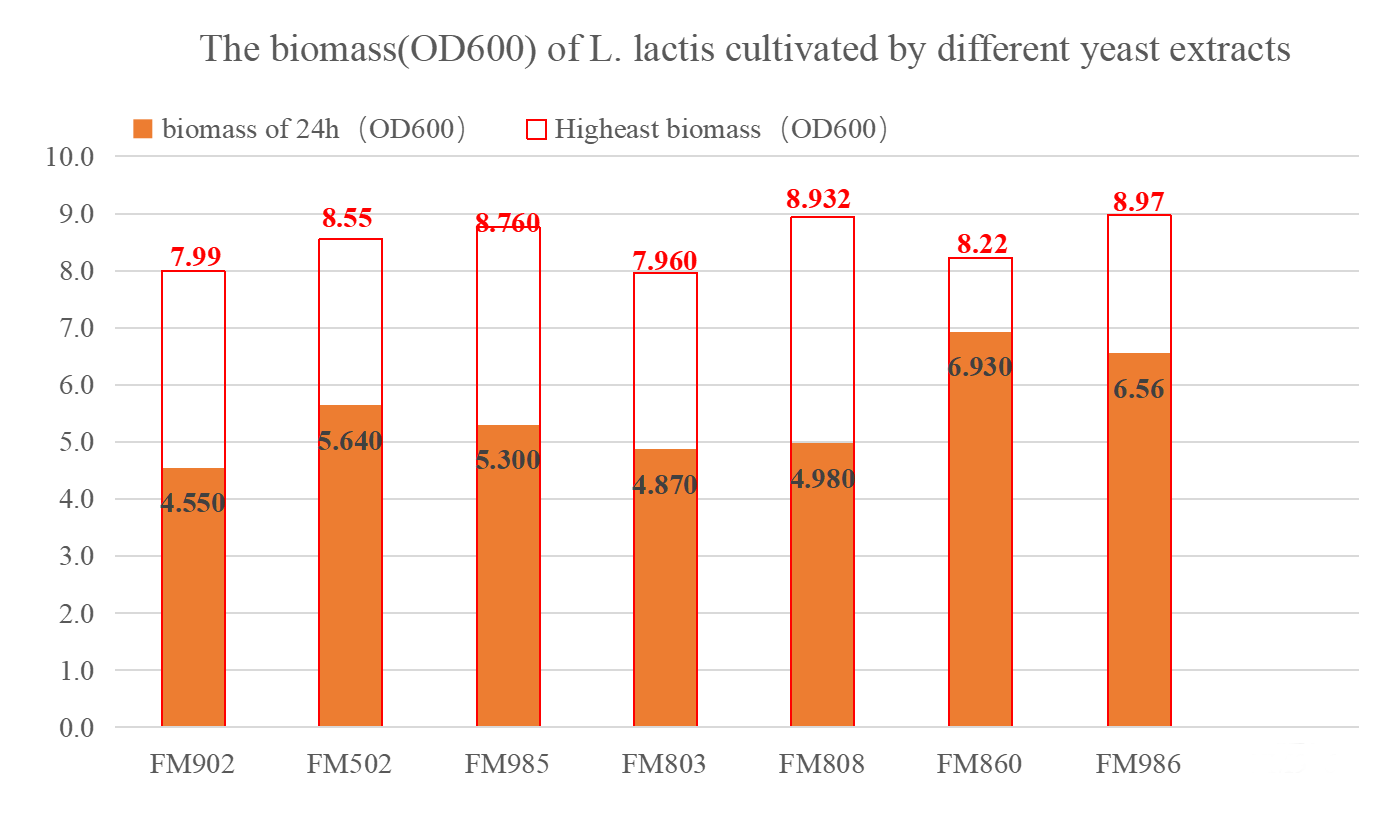 However, when the fermentation time was extended to 24h the biomass with FM902, FM808 and FM803 decreased more significantly than those with FM502, FM860 and FM986. The biomass with FM986 had the least decrease. It Indicates that FM986 may be used to obtain good final biomass with better stability.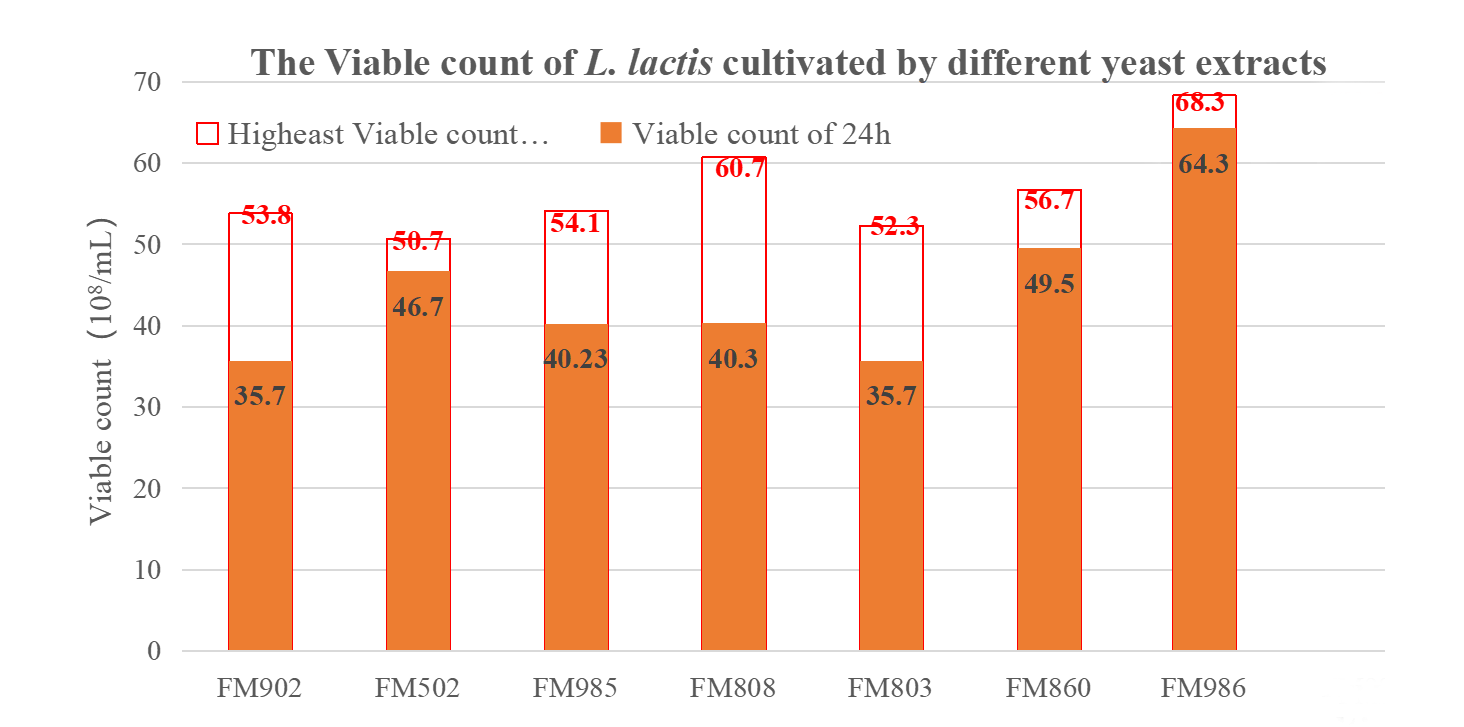 The cell viability test suggests that FM986 resulted in the highest cfu count and also the best stability over 24 hours of cultivation. It helped to produce higher viable count than others . It also had minimal decrease in viability after 24 hours of incubation.
Blind sample test by domestic customer
Strain: Lactococcus lactis (subsp. Lactis)
Samples: sample 1 (customer's current model), sample 2 (FM986), sample 3 (another supplier)
Formula andF conditions: customer production formula and conditions (confidential)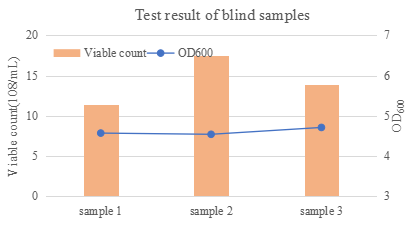 The results show that although the OD600values of the three samples were similar, FM986 (sample 2) had 30% higher viable count than another supplier (sample 3) and the product currently used by customer (sample 1). Clearly FM986 demonstrated some advantages over other competitive products for the cultivation of Lactococcus lactis.
Conclusion
1、There was a significant difference on the cultivation of Lactococcus Lactis by different yeast extracts. FM986 performed better than others on the biomass yield and stability, and was also more suitable than another supplier on the cultivation of Lactococcus Lactis.
2、Based on the blind testing results, FM986 can be well used to replace another supplier yeast extract to achieve even better biomass yield and stability of viable count.



Published by Xiong Changwu


R&D expert of Protein Nutrition and Flavoring technology center

About Angel Microbial Nutrition:
Angel YE, rich in protein, amino acids, peptides, nucleotides, B vitamins and trace elements. With the advantages of having no allergic source and being non-transgenic, high efficiency and stable quality, Angel YE are widely applied in the biological laboratories and industrial-scale fermentation, promoting the product safety and technical progress in the global fermentation industry.
About Angel:
Angel Yeast Company is a high-tech listed company specializing in yeast and biotech. Product business covers Yeast and Baking, Yeast Extract-Savoury, Nutrition & Health and Biotechnology fields. It is one of the world's leading companies in the yeast industry. Angel has 12 holding subsidiaries and provides products and services for more than 150 countries and regions.
Press contact:
ANGEL YEAST CO., LTD
Address: 168 Chengdong Avenue, Yichang, Hubei 443003, P. R.China
Tel: +86-717-6369227
Fax: +86-717-6368757
email: aie@angelyeast.com