By Chen Lin
3rd March, 2022

With the continuous improvement of citizens' living standards, the continuous yearning for a better life, and the increasing emphasis on food safety, the world's efforts to manage the use of veterinary drugs and monitor their residues have also been continuously strengthened. Under the guidance and supervision of related policies, efficient and safe culture medium for animal vaccines will gradually replace traditional veterinary drug products, and the animal vaccine market will usher in the spring of the industry.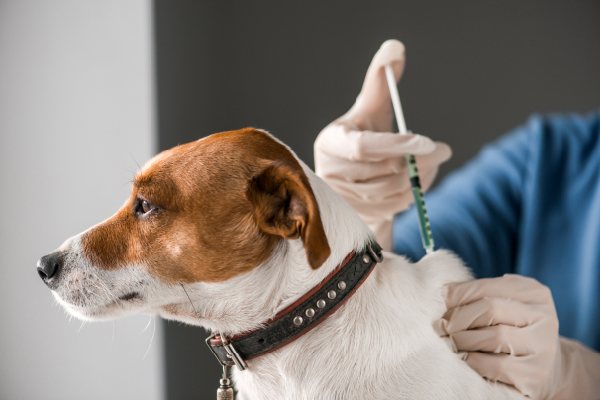 Angel culture medium is a customized medium for the animal vaccine industry. It is a product developed based on in-depth research on nutritionally demanding vaccine strains. It aims to minimize the amount of serum without affecting the fermentation performance. Angel culture medium with low serum content for animal vaccine has been recognized by many industry customers.
Angel Streptococcus medium is a general-purpose medium for streptococcal vaccine production. It can be used for Streptococcus suis type 2 (HA9801 strain, 2-LT strain), type 7 (7-YZ strain), live vaccine ST171 Strain, Streptococcus sheep, Streptococcus equi subsp. zooepidemicus and other Streptococcus vaccine fermentation production. The test result showed that the growth-promoting effect of Streptococcus angel medium on Streptococcus YZ strain was significantly higher than that of Tryptic Soy Broth (TSB) and Brain Heart Infusion Broth (BHI), and also higher than that of Streptococcus from several domestic manufacturers. Angel Streptococcus culture medium has successfully achieved low serum or even serum-free conditions, the number of viable bacteria can reach more than 10 billion cfu/ml.

Angel Pasteurella Medium is a general-purpose medium for Pasteurella vaccine production, which can be used for the fermentation production of Pasteurella multocida vaccines such as pigs, poultry, rabbits, and cattle.The test result showed that the brain heart infusion broth (BHI) synthesized with animal tissue extracts has been difficult to achieve satisfactory culture effects, and the Pasteurella angel medium has advantages over other pasteurized mediums. Therefore, we carried out a 10L vessel pilot-scale fermentation process verification, and cultivated Pasteurella under low serum or serum-free conditions. The test results showed that the average number of viable bacteria in the Pasteurella angel medium reached more than 13 billion cfu/ml. The customer's test results showed that the pasteurella angel culture medium can reach 40 billion cfu/mL without adding serum, which greatly exceeds the effect of self-made medium plus serum.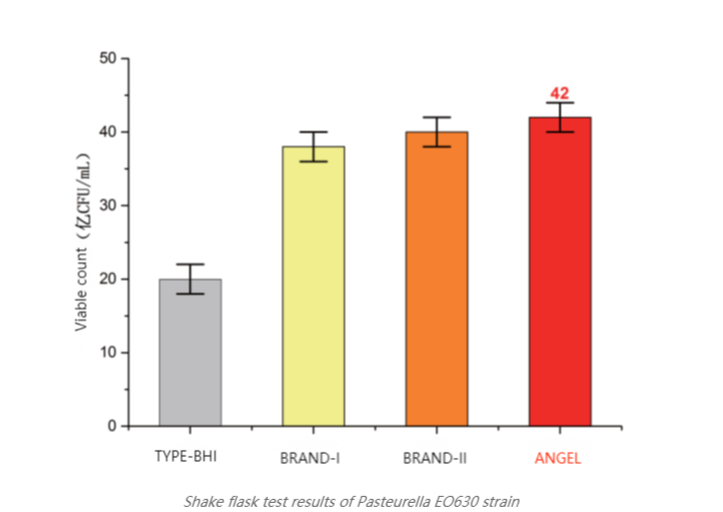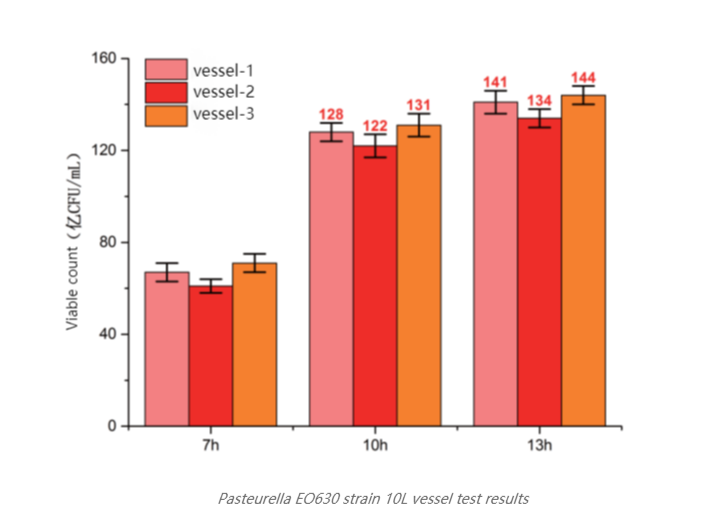 Angel Mycoplasma Medium is a general-purpose medium for the production of Mycoplasma hyopneumoniae and Mycoplasma gallisepticum vaccines. Particularly suitable for the metabolic proliferation of Mycoplasma. Mycoplasma Angel culture medium contains fresh yeast extract dry powder rich in growth factors. The formula is scientifically optimized. Many customers have tested and verified that the titer of viable Mycoplasma suis cultured is above 109ccu/m

Angel Bacillus medium is a special medium for the production of Brucella A19 vaccine.The test result showed that there are significant differences in nutritional requirements between the attenuated strains S2 and A19 commonly used for Brucella vaccine culture. Bacillus culture medium contains specific growth factors required for the growth of Brucella A19. Brucella S2 can be carried out in Angel Tryptic Soy Broth (TSB), and the fermentation test effect is currently comparable to similar foreign products.
---
Angel YE, rich in protein, amino acids, peptides, nucleotides, B vitamins, and trace elements. With the advantages of having no allergic source and being non-transgenic, high efficiency, and stable quality, Angel YE are widely applied in biological laboratories and industrial-scale fermentation, promoting product safety and technical progress in the global fermentation industry.
About Angel:
Angel Yeast Company is a high-tech listed company specializing in yeast and biotech. Product business covers Yeast and Baking, Yeast Extract-Savoury, Nutrition & Health and Biotechnology fields. It is one of the world's leading companies in the yeast industry. Angel has 12 holding subsidiaries and provides products and services for more than 150 countries and regions.
Address: 168 Chengdong Avenue, Yichang, Hubei 443003, P. R.China
email: aie@angelyeast.com