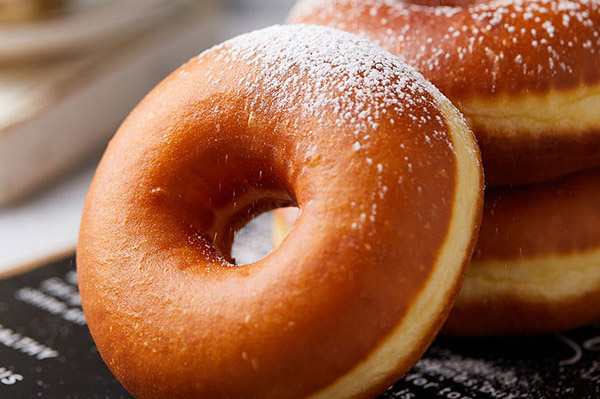 Donuts premix launched by Angel meets the processing needs of bakery chains.
In the 1940s, a captain named Gray lived in the United States, when he was a child, he loved to eat fried bread cooked by his mother. But one day, he found that the central part of the fried bread was not fully cooked due to insufficient frying time, so Gray's mother decided to dig out the central part of the fried bread and fry the bread again. Surprisingly, they found that the taste of the fried bread was even more delicious, so the hollow fried bread - Donuts was born.
Donuts is so soft and tender that it melts in the mouth, so it becomes the first choice for breakfast and afternoon tea for many people.
American donuts with the authentic flavors require complicated ingredients. Angel launches a donuts premix to greatly simplify the ingredients, which can just directly mix and stir the 25% premix with flour, yeast, butter and other ingredients. It is convenient and efficient to reduce labor costs, and can also ensure the consistency of recipes used by the chain bakeries. This product is suitable for the mode of central factory and store distribution, and also suitable for the frozen dough technology, to meet the needs of bakeries for baking at any time.
Production recipe: Angel Donuts premix 250g, strong flour 680g, Angel sugar-tolerant fresh yeast 50g, and butter 70g
Production process:
1. Add all the ingredients in the bread mixer, and knead at low speed for 2min and high speed for 12min until the gluten forms film. Keep the dough temperature within 22℃
2. Shaping, keep each dough of 50g
3.Put 12 doughs in each tray
4.Let rise in a place with the temperature of 35-40℃ and the humidity of 60-70% for 40-50min until doubled
5.Place indoors for 30min
6.Fry both sides in 190℃ oil for 1.5min
Advantages of Angel Donuts premix:
1. It is convenient and efficient
2.The donuts made are soft and tender, melt in the mouth, and have a cake taste
3.It can be used for frozen dough, freshly baked donuts, and for home use.
Angel has a full-automatic production line of food ingredients to guarantee the product quality. The product formula is suitable for large factories, chain bakeries, shops, supermarkets, small bakeries and home users. Welcome to contact us and we will provide samples for trial.