By Celine Liu
Plant-based eating on the rise
From a global perspective, plant-based sector has a dynamic development and growth in recent years. According to GFI's market data, retail growth has increased by double-digits every year since 2017, far outpacing conventional meat sales[1]. In 2019, the global plant-based meat market size by revenue is likely to cross $12 billion by 2025, growing at a CAGR of more than 18% during the forecast period[2].
Figure1. Europe and global: Meat substitute launches as a percentage of meat launches.[3]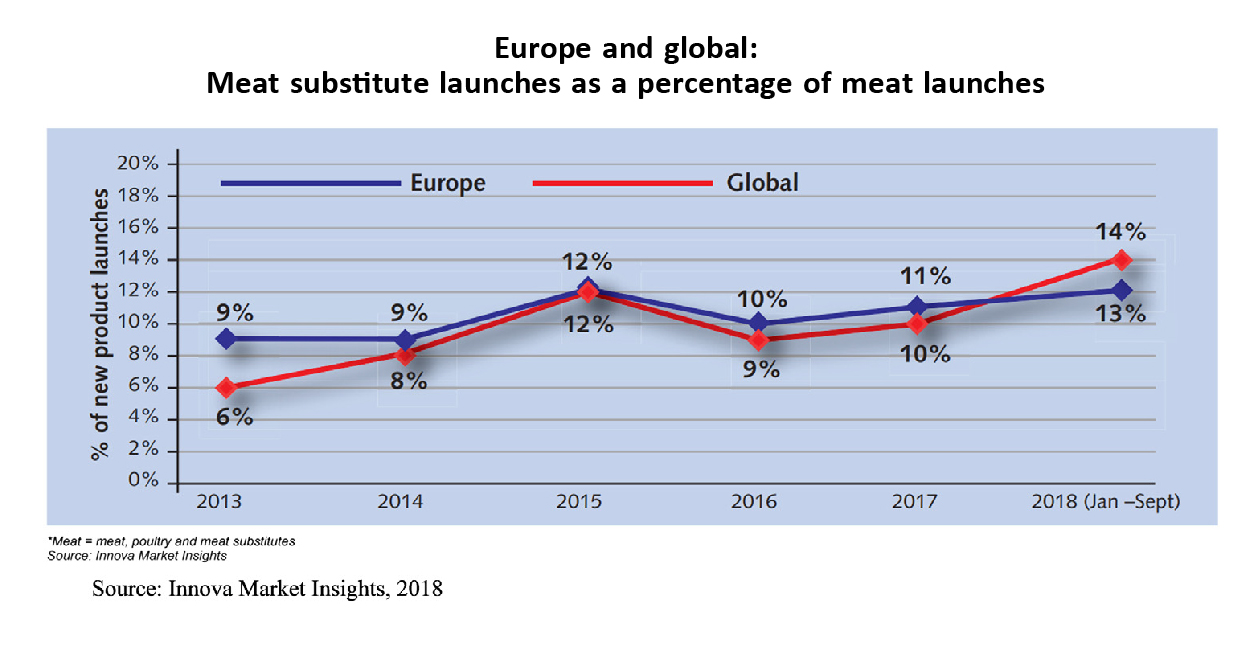 Figure2. Processed products with plant-based claims by category, 2014-2019. [4]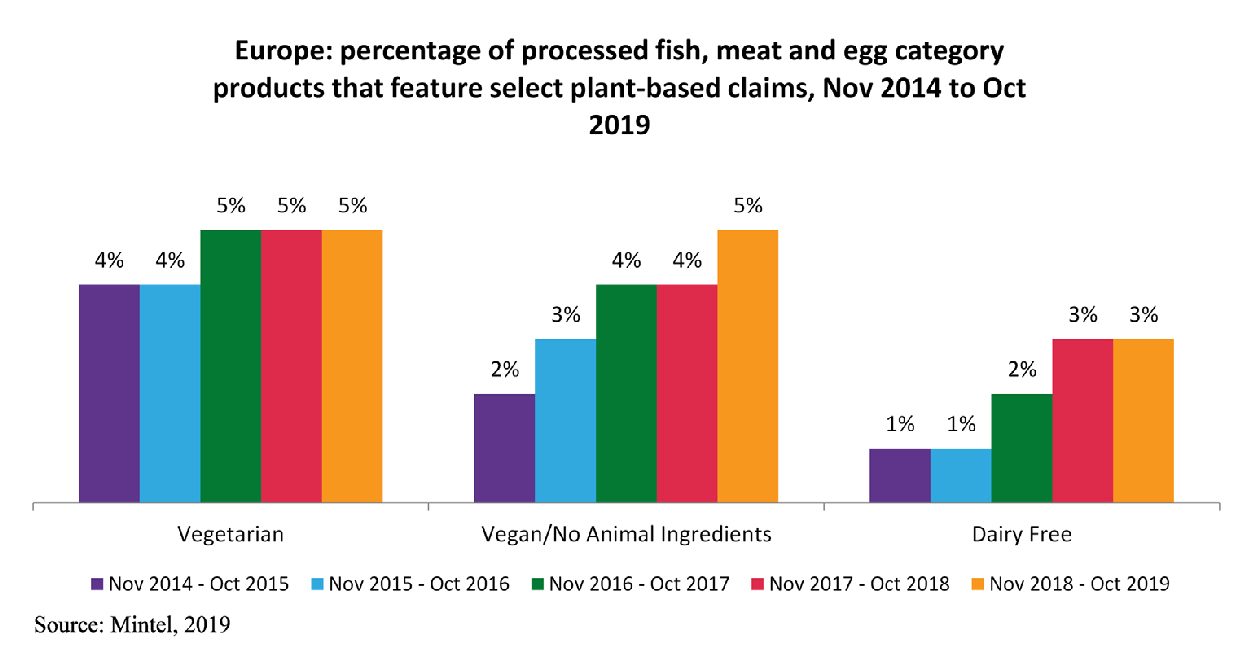 Increasing consumer acceptance
There are three main reasons that consumers eat plant-based foods: health, ethical and environmental. Health reasons, such as blood pressure or cholesterol, act as the main driver for consumers in general[4]. According to NIH, compared to people eating diets rich in white meat or plant-based protein, those who ate a diet rich in red meat had triple the levels of a chemical linked to heart disease[5].
Taste and mouthfeel remain at the forefront of consumers' minds when it comes to food choices, however how to mimic the authentic meaty notes is the key challenge that food manufacturers face. For years, dissatisfying taste experience of plant-based products such as beany notes from vegetal proteins, "it doesn't taste as good as meat" are the major reasons for the loss of customers. Moreover, unrecognizable food additives and nutritional contents are also key considerations for consumers' evaluation.
Angel's portfolio for plant-based diets
We offer a wide range of experience and know-how to create the best taste solution for your products. Angel Yeast has set up a specialized team and collaborates with mega-companies, and universities to continuously develop integrated solutions for meat alternatives on improving the taste and nutrition profile, intensifying meaty notes and overall taste profile, and counteracting the unwanted off-notes.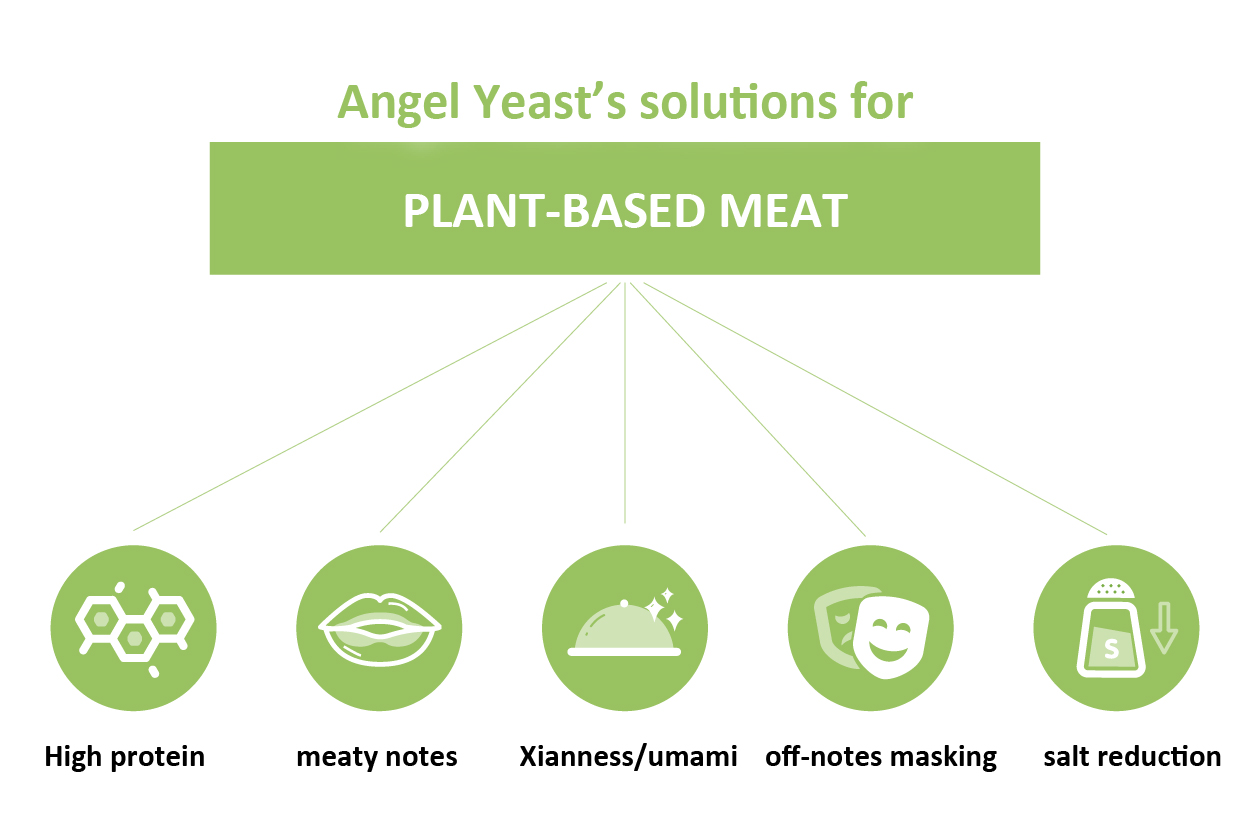 High Protein Profile
Angel Yeast's newly launched AngeoPro F80, an innovative yeast protein that is animal-free and allergen-free, features high protein content of up to 80% that is derived from the eco-friendly fermentation process. AngeoPro F80 is an innovative protein source for plant-based diets and contributes to taste enhancement, nutrition-boosting, and off-notes masking.
Boost Authentic Meaty Notes
Angeotide, Hou-feel/mouthfulness yeast extract, is an ideal meaty flavor precursor which is animal origin free. Packed with multiple different free amino acids, natural nucleotides, and meaty notes giving substances, Angel Hou-feel YE can perfectly enhance the overall taste profile, impart authentic meaty notes, magnify flavor intensity, as well as delivering specific flavor notes, such as pork, chicken, beefy, roasted flavor to the end products.
Intensify natural Xianness/umami taste
Angeoboost, strong Xianness/umami yeast extract, can effectively neutralize the unpleasant of-notes of alternative proteins, balance the overall taste profile, intensify the flavor profile while managing the sodium level of plant-based diets.
Neutralize unwanted off-notes
Thanks to the rich content of amino acids, flavor peptides, enzymes, and other components, Angel yeast extract can effectively counteract the off-notes brought by vegetal protein. During the cooking and heating process, the rich content of amino acids, and Xianness/umami peptides in yeast extract will break down into nitrogen-rich and sulfur-rich compounds (meaty flavors) through the Maillard reaction. It will further counteract off-tastes and bring specific savory notes to the end products. Read more here.
Looking for more application solutions? Please contact yefood@angelyeast.com and ask for a sample.
Published by Celine Liu

R&D expert of Protein Nutrition and Flavoring technology center
---
Reference:
1. GFI
2. Plant-based Meat Market by Businesswire.
3. Innova market insight
4. Mintel
5. Eating red meat daily triples heart disease-related
---
About Angel Yeast Extract-Savoury:
Angel YE (yeast extract) made from edible yeast, by degradation the protein and nucleic acid in the yeast cells into nutritional seasonings with the application of modern biotechnology, has the advantages of increasing the fresh flavor, reducing salt, balancing the odor, strong tolerance and food properties, which promotes the global healthy operation of salt reduction and "clean label ".
About Angel:
Angel Yeast Company is a high-tech listed company specializing in yeast and biotech. Product business covers Yeast and Baking, Yeast Extract-Savoury, Nutrition & Health and Biotechnology fields. It is one of the world's leading companies in the yeast industry. Angel has 12 holding subsidiaries and provides products and services for more than 150 countries and regions.
http://en.angelyeast.com/
Press Contact:
ANGEL YEAST CO.,LTD
Address: 168 Chengdong Avenue, Yichang, Hubei 443003, P. R.China
Tel: +86-717-6369520, 6369558
Fax: +86-717-6370680
Email: yefood@angelyeast.com