Peng Yin

As an increasing need for natural, low-calorie drinks that deliver on taste, Angel Yeast Extract R&D lab has launched a range of flavor-enhancing products and solutions to address consumers' demand for both nutrition and taste.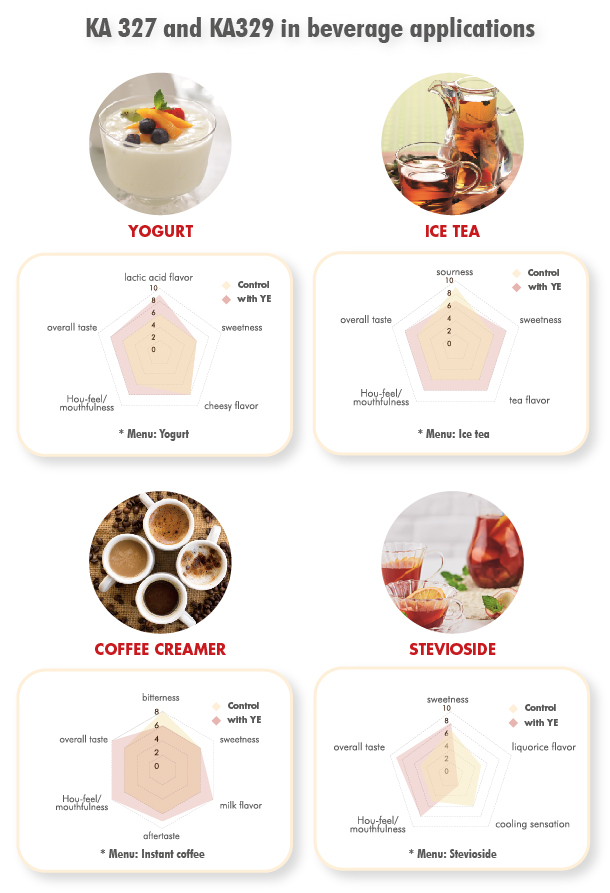 Natural Origin Ingredient
Yeast extract(YE) has been widely used as a powerful flavor booster in the food and beverage industry. It is produced from the food-grade baker's yeast of the species Saccharomyces cerevisiae containing high-quality protein and carbohydrate. Then enzymes in the yeast break down the proteins, releasing multiple flavor ingredients, such as amino acids, flavor peptide, and polysaccharides, etc. It is all-natural and completely free from any genetically modified source material.
Taste Improvement
The application experts of Angel Yeast Extract Division have launched two new products: Functional YE KA327 and KA329, which are specially designed to improve the taste profile in sweet products. The newly launched products contain non-volatile functional substances such as protein, carbohydrate, polypeptides, reducing sugars, vitamins, micronutrients, vitamin B 15, theanine, inositol, etc., which determine the characteristic aroma and taste of yeast extract (YE).
Hou-feel YE KA327 and KA329 can strengthen the authentic flavor of yogurt and coffee, mask the off-notes coming from sweeteners in sugary drinks to make the end products taste more natural and well-rounded.
Sugar Reduction
With the help of Hou-feel series' yeast extract, the beany notes of soy milk, stimulating sensation of citric acid and acetic acid and the bitter aftertaste of green tea can be effectively curbed, a richer and rounder mouthfeel can be guaranteed. With a combination of stevioside, yeast extract effectively masks the liquorice flavor and cooling sensation while realizing a sugar reduction up to 30% without compromising on taste.
Nutritional and color protection
KA327 and KA329 are not only acting as a flavor modulator in the beverage industry, but they are also acting as a functional ingredient containing a large number of nutritional substances, such as glutathione, selenium,γ-amino acid, beta-glucan, and B vitamins, that are beneficial for human health. The selenium-rich yeast extract helps protect the color of Barley grass juice and green tea.
By adding just a small amount of yeast extract in finished products can bring out the highly intensified sweetness, prolonged lingering taste, and enriched nutritional contents. Yeast extract is a safer, cleaner, healthier and more eco-friendly choice than synthetic additives.
---
About Angel Yeast Extract-Savoury:

Angel YE (yeast extract) made from edible yeast, by degradation the protein and nucleic acid in the yeast cells into nutritional seasonings with the application of modern biotechnology, has the advantages of increasing the fresh flavor, reducing salt, balancing the odor, strong tolerance and food properties, which promotes the global healthy operation of salt reduction and "clean label ".

About Angel:
Angel Yeast Company is a high-tech listed company specializing in yeast and biotech. Product business covers Yeast and Baking, Yeast Extract-Savoury, Nutrition & Health and Biotechnology fields. It is one of the world's leading companies in the yeast industry. Angel has 12 holding subsidiaries and provides products and services for more than 150 countries and regions.
http://en.angelyeast.com/

Press Contact:
ANGEL YEAST CO.,LTD
Address: 168 Chengdong Avenue, Yichang, Hubei 443003, P. R.China
Tel: +86-717-6369520, 6369558
Fax: +86-717-6370680
Email: aie@angelyeast.com