Let Us Brew an European Amber Lager for the New Year
Dec.31, 2018
By Guangxin
Winter is coming soon, so the weather will be colder and colder. Maybe, it is the best time to brew a winter lager to celebrate the New Year, such as European amber lager.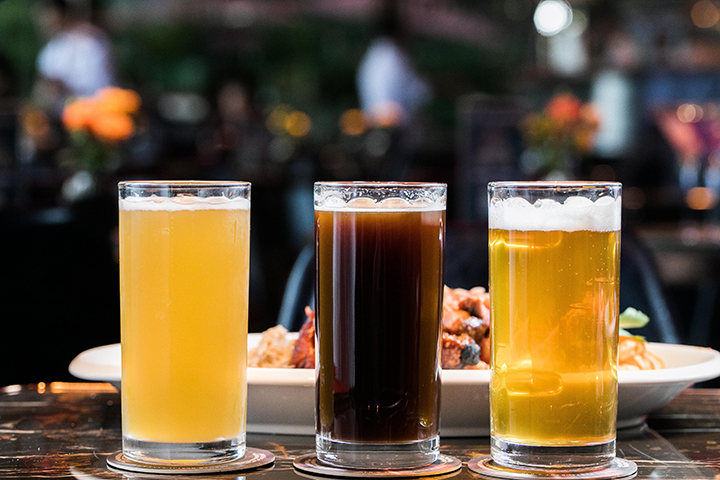 European amber lager, which is one of the most food-friendly beer styles, and goes well with almost any food, is low hop character, malt-focused, clean, and easy-drinking lagers. It is the right time to brew that beers in winter, when it is easy to keep fermentation temperature under control. Let the beers lager until the fall, some spectacular results may be gotten before tasting.
A. Formula
Prepare the ingredients of the European amber lager according to the table below.
Tab. 1 Ingredients
| | | |
| --- | --- | --- |
| NO. | Ingredients | Weight |
| 1 | Pilsener malt | 1. 50kg |
| 2 | Munich malt | 1. 40kg |
| 3 | Vienna malt | 2. 30kg |
| 4 | Crystal malt | 60 g |
| 5 | Hallertau for 60min | 40g |
| 6 | Hallertau for 10min | 15g |
| 7 | Angel Lager-BF27 | 12g |
B. Wort manufacture
Mash at 67℃ for 70~90 min, rinse with some water to discard the grains, increase the pre-boil volume of 28L to allow a 60-minute boil, which helps reduce dimethyl sulfide (DMS), and bring the liquid to a boil. Then get 25L wort, of which finish gravity is about 1. 012 more or less.
C. Fermentation
Use 12g lager yeast below or make an appropriate starter. Ferment at 10~12℃ for about 3 weeks before bottling or serving.
v BF27 is an excellent lager yeast to help produce lagers of fruity and floral aromas.
v High flocculation.
v Apparent attenuation of 80~92% and ethanol tolerance of 10%( v/v).
v Quick start to fermentation, which can be finished quickly.
v Display slight fragrance of fruity and floral aroma if properly handled.
v Give a high drinkable beer, and present a clear and balanced body.
v It is a natural strain and GMO free.
v BF27 has been widely used in craft beer houses and small beer factories.
D. Post-fermentation
When finished, carbonate the beer from 2 to 2. 5 volumes.
Make a priming syrup on the stove with 1 cup sterile water and 3/4 cup priming sugar, bring to a boil for five minutes. Pour the mixture into an empty bottling bucket. Siphon the beer from the fermenter over it. Distribute priming sugar evenly. Siphon into bottles and cap. Let sit for 1-2 weeks at20~25℃.
E. Tasting
Have a taste at8℃~10℃, and enjoy your European amber lager with your friends.
Please accept our wishes for you and yours for a happy New Year!
Angel can provide brewing yeasts, ingredients and related technical services for the production of wine, beer, and other brewing liquor. All our products are natural, safe, and of high quality. With the current energy shortages around the world, the production of fuel ethanol through yeast fermentation has become an inevitable trend.
Angel Yeast Company is a high-tech listed company specializing in yeast and biotech. Product business covers Yeast and Baking, Yeast Extract-Savoury, Nutrition & Health and Biotechnology fields. It is one of the world's leading companies in the yeast industry. Angel has 12 holding subsidiaries and provides products and services for more than 150 countries and regions.
Published by Guangxin liu
Senior technical engineer
Angel Distilled spirits and Biofuels Division
For more media information, please contact:
Angel Yeast Co., Ltd.
Yichang, Hubei, China
Ryan Wu
Tel.: +86 717 6353619
Email: wusy@angelyeast.com
en.angelyeast.com
---
---