No H2S, more elegant
Oct. 31, 2019
By Fangfang
It is one of the most common sensory defect problems in winery, and if not treated, the finnal wine will be tainted leading to a defect in quality and the rejection by consumers. Even below detectable sensory threshold levels, H2S negatively impacts wine quality by masking of fruit expression and character.
H2S can be directly formed by wine yeast from elemental sulfur, sulfates and the sulfite usually added as antioxidant and antimicrobial agent. During wine fermentation, the assimilatory reduction in sulfate by wine yeast (to biosynthesize cysteine and methionine) can lead to the excessive production of the HS- ion, which leads to the formation of H2S in the wine.
Although H2S can be removed by aeration, it is highly reactive and can combine with other wine components to form related volatile sulfur compounds in wine. Those volatile sulfur compounds are not easily removed from wine.
Prevention of H2S formation
Initial prevention of H2S formation during fermentation is critical part of a control strategy to prevent negative volatile sulfur compound formation. Once you have this problem, all potential elimination strategies (i.e. aeration, copper) do have an effect on your wine quality.
H2S-Preventing Technology
The trait to prevent H2S during fermentation was discovered in a natural yeast (UCD932) from a vineyard in Emilia-Romagna, Italy by Dr. Linda Bisson and her research team at the Department of Viticulture and Enology, University of California, Davis, and it is this natural isolate that is used as a base for the selective breeding of Renaissance wine yeast strains.
The S. cerevisiae strain UCD932 produces undetectable amounts of H2S under all conditions tested. The difference between the MET10 of UCD932 and other MET10 alleles of S. cerevisieae strains is a single amino acid change: threonine to lysine. Threonine is a neutral amino acid, while lysine is charged. The charge apparently prevents H2S from exiting the cell.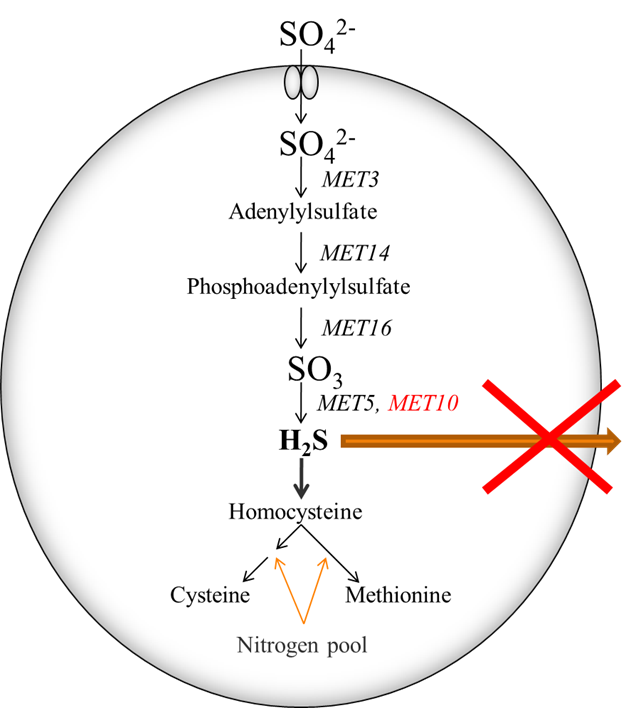 Classical Breeding
Developed through classical natural breeding, Renaissance yeasts do not produce hydrogen sulfide during fermentation, but are otherwise identical to comparable traditional wine yeasts.
Renaissance Yeast's exclusive H2S-preventing technology is the result of the discovery of a natural trait in yeast that increases sulfur and nitrogen utilization efficiency, thereby completely preventing H2S formation during fermentation.
Renaissance Yeast uses classical breeding to develop its hydrogen sulfide (H2S)-preventing yeast strains. Classical breeding organisms are classified as non-genetically modified (non-GMO). Renaissance yeast crosses a unique parental H2S-preventing yeast (UCD932) with any one of a variety of industrial wine yeast strains. After identifying H2S-preventing hybrids, they repeatedly cross these hybrid offspring yeast with the parental industrial strain ("backcrossing"), all the while maintaining the H2S-preventing trait. After a number of backcrosses, this process yields a final, non-GMO yeast strain that is functionally identical to the parent, except that it also prevents H2S formation.

Using this methodology, Renaissance Yeast have currently developed a range of proprietary H2S-preventing strains that, collectively, are ideal for use in a wide variety of wine styles.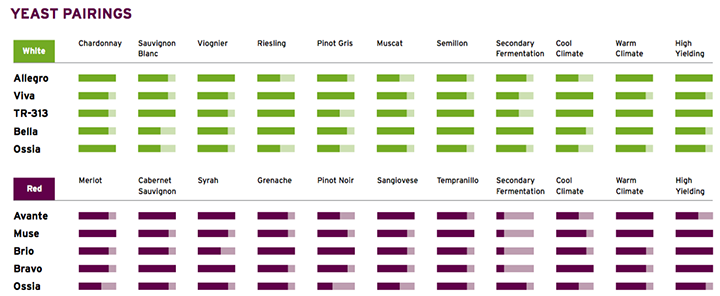 Angel Yeast Co., Ltd. has signed a global licence agreement with Renaissance BioScience Corp. to exclusively manufacture and supply the Renaissance novel, patent-protected yeast portfolio for the wine, cider and craft beer industries worldwide, starting in Q4/2017.
About Angel Distilled spirits and Biofuels:
Angel can provide brewing yeasts, ingredients and related technical services for the production of wine, beer, and other brewing liquor. All our products are natural, safe, and of high quality. With the current energy shortages around the world, the production of fuel ethanol through yeast fermentation has become an inevitable trend.
About Angel:
Angel Yeast Company is a high-tech listed company specializing in yeast and biotech. Product business covers Yeast and Baking, Yeast Extract-Savoury, Nutrition & Health and Biotechnology fields. It is one of the world's leading companies in the yeast industry. Angel has 12 holding subsidiaries and provides products and services for more than 150 countries and regions.
Published by Fang Fang
Senior R & D Engineer
Angel Distilled spirits and Biofuels Division
Press contact:
ANGEL YEAST CO., LTD
Address: 168 Chengdong Avenue, Yichang, Hubei 443003, P. R.China
Tel: +86 717 6353619
Email: ethanol@angelyeast.com
Related tags:
h2s prevention wine-aroma
---
---