How to produce bioactive peptide with enzyme?
Nov. 29, 2019

ABSTRACT
Bioactive peptide is a peptide linked by two or more amino acids with physiological and biochemical active, which play an important role in human life. More and more functional research and application of bioactive peptide products in sports nutrition, health care, health care and other aspects shown a rapid growth trend. In this article we talk about the key point of the production of bioactive peptide.
With the changing of lifestyle and health awareness, more and more attention has been paid to functional food. Among them, bioactive peptide is one of the most popular one in research fields. It has been found that many active substances exist in human body as the form of peptides, and which play the role of messengers of physiological and biochemical reactions in human life activities as well as maintain the stability of human life activities. Bioactive peptide has become an indispensable raw material for the development of human health industry.
On Jan. 5, 2017, the National Development and Reform Commission and the Ministry of Industry and Information Technology jointly issued <the guidance on promoting healthy development of food industry >, pointed out that during the "13th Five Year Plan" period, the research and development on health products and health food related to the functional protein and bioactive peptide would be promoted. It brings a new height to the development and application of functional protein and bioactive peptide. These makes the functional research and application of bioactive peptide products in sports nutrition, health care, health care and other aspects shown a rapid growth trend.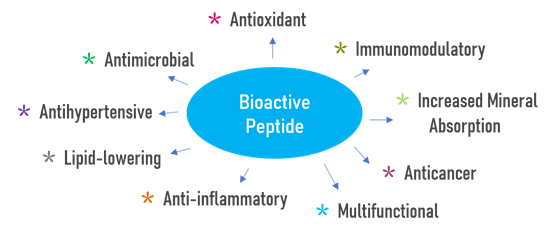 Fig. 1 The function of bioactive peptide
What is bioactive peptide?
Peptide which is a compound link two or more amino acids by peptide bonds, play an important physiological role in human body. The peptide with physiological and biochemical active called active peptide is called bioactive peptide or bioactive polypeptide. According to traditional theory, protein can only be absorbed by intestinal mucosa after being decomposed into free amino acids. Where as, in recent years, more and more evidences show that protein can be directly absorbed by mucosa after being decomposed into small molecular weight oligopeptides, and the absorption speed is faster than amino acids.
How do bioactive peptides come from?
Although there are all kinds of bioactive peptide existing in natural protein, the vast majority of known bioactive peptide are encrypted in the structure of the parent proteins and are released mainly by enzymatic processes, the macromolecular protein is decomposed into small polypeptide and oligopeptide. Once the peptide is released from the precursor protein where they are encrypted, the composition and sequence of amino acid determines the activity of peptide. In this process, the selection and application of enzyme play an important role.
Generally speaking, pretreatment on protein can improve the enzymolysis effect on raw protein, and the synergistic effect of multiple sources of protease can further improve the utilization rate of raw protein and functional components. Meanwhile, it is important to control the enzyme site, the degree of hydrolysis, the molecular weight distribution of peptides, and the functional verification of products.
Of course, the post-treatment process is also very important, because there will be bitter, fishy or unsightly color in raw materials or in the production process. Thus physical and chemical methods such as Maillard reaction, enzymatic debittering, microencapsulation technology, active carbon and other methods can be used to enhance flavor and remove the color and fish smell.
Annzyme® series complex protease for peptide production can effectively hydrolyze animal and plant protein into polypeptide, small peptide and amino acid, improve the color of the final product to a certain extent, improve the yield and quality of the terminal peptide product, and achieve weakening bitterness by specifically cutting the bitter peptide of terminal amino acid accompanied with the hydrolysis process of protein, and coordinate the taste of final product.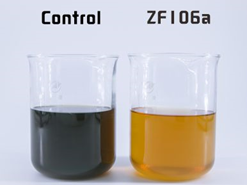 Fig. 2 The effect of Annzyme® complex enzyme ZF106a on the colour of wheat peptide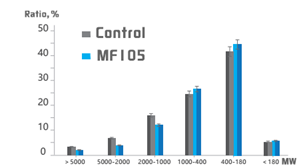 Fig. 3 The effect of Annzyme® complex enzyme MF105 on molecular weight of bovine collagen peptide
Fig. 4 The effect of Annzyme® complex enzyme ZF106 on the yield of soybean protein
By Lily
Institute Of Special Enzymes and Biological Products
Related product please check:
https://en.angelyeast.com/products/enzymes/enzymes-for-soybean-protein-processing.html
https://en.angelyeast.com/products/enzymes/enzymes-for-animal-protein-processing.html
About AnnzymeTM:
Annzyme is a new brand for Angel enzymes products. We are dedicated to providing customers with perfect solutions in many fields like baking, proteolysis, nucleic acid hydrolysis, starch further-processing etc, and already built highly automated production lines for enzymes and other biological products. We are committed to become the best enzymes supplier and service provider.
About Special Enzyme Division :
Angel Special Enzyme Division is an important strategic business unit of Angel Yeast. Related technologies involve the fields of microbial breeding, genetic engineering, fermentation engineering, biocatalysis, food, brewing, feed, pharmaceutical, etc.
About Angel :
Angel Yeast Company is a high-tech listed company specializing in yeast and biotech. Product business covers Yeast and Baking, Yeast Extract-Savoury, Nutrition & Health and Biotechnology fields. It is one of the world's leading companies in the yeast industry. Angel has 12 holding subsidiaries and provides products and services for more than 150 countries and regions.
Press contact:
ANGEL YEAST CO., LTD
Address: 168 Chengdong Avenue, Yichang, Hubei 443003, P. R.China
Tel& Fax: +86-717-6369520
Email: enzyme@angelyeast.com
---
---