The influence of yeast extract on culture of LABs and the details of Lactobacillus acidophilus fermentation
Introduction
LABs are widely used in research and industry, the culture of lactobacillus is one of the most important steps in the process. Culture medium affects the viable count even the physiological characters of the strain in fermentation. As the most important nutrient in culture medium, the stability and characters of nitrogen source would affect the fermentation of LABs significantly. In this research, we studied the effects of Yeast extract on the culture of several LABs for the target of gaining biomass, and the culture of Lactobacillus acidophilus in detail. The results implied that different kind of yeast extract (peptone) was suitable for different strains. ForLactobacillus acidophilus, Yeast extract that is rich in nucleotides or amino acids has some advantages on gaining the biomass, improving stability in storage and shortening the lag phase.
Materials and Method
Inoculating microbes into 100ml culture medium (MRS) and keeping it overnight for preparation. Then transferring 2mL cultures to 100mL culture medium containing glucose(20g/L),MgSO4(0.58g/L),MnSO4(0.25g/L),Sodium acetate (5g/L),Ammonium citrate dibasic (2g/L),potassium phosphate dibasic(2. 0g/L),tween-80(1mL/L)and Yeast extract in the table 1(20g/L),culturing it for 12h under 37℃, 120rpm after inoculation,detecting pH and optical density(OD600 ) value during the process and calculating the viable count of each strain by the end.
Table 1 Yeast Extract (Angel Yeast) with different characters
| | |
| --- | --- |
| Yeast extract | Description |
| Angel Yeast FM902 | Standard product ,T-N>10%,A-N>3% |
| Angel Yeast FM803 | Rich in free amino acid |
| Angel Yeast FM808 | Autolyzing without external enzyme and rich in peptide |
| Angel Yeast FM860 | Rich in trehalose and polypeptide |
| Angel Yeast FM502 | Rich in nucleotide |
| Angel Yeast FM905 | Brewer Yeast Extract |

Results
Table 2 Different nitrogen sources were used for the culture of different strains
| | | | | | | |
| --- | --- | --- | --- | --- | --- | --- |
| Strains | FM902 | FM803 | FM808 | FM860 | FM502 | FM905 |
| Enterococcus faecium | ++ | ++ | ++ | ++ | +++ | ++ |
| Lactobacillus plantarum | ++ | ++ | + | ++ | +++ | + |
| Streptococcus thermophilus | + | +++ | + | ++ | ++ | + |
| Lactobacillus casei | +++ | +++ | +++ | ++ | +++ | ++ |
| Lactobacillus paracasei | +++ | +++ | ++ | ++ | ++ | + |
| Lactobacillus reuteri | ++ | +++ | ++ | ++ | +++ | ++ |
Statements:+++ indicates 90~100% of the highest biomass
++ indicates 80~90% of the highest biomass
+ indicates less than 80% of the highest biomass
Table 2 shows the performance of LABs while using different Yeast Extract(Peptone),results shows differences among strains on nutritional requirements
Fig 1and Fig 2 shows the optical density and pH variation of different Yeast Extract for Lactobacillus acidophilus in detail, Fig 3 and Fig 4 show the final viable count and the variation of viable count after storage for 3d or 7d. The results present optical density ranges from 2. 4 to 2. 8 at the end of the fermentation of Lactobacillus acidophilus and make a difference in viable count. While using FM803 as nitrogen source, the highest viable count was observed, but it decreased more than 30% after 7d's storage. When using the yeast extract that is rich in nucleotides (FM502), the highest optical density was observed, though the viable count was 10% less than FM803 at the end of the fermentation, it showed good stability during storage. Though FM905 has no advantage in gaining biomass, it barely showed decrease in biomass during the storage.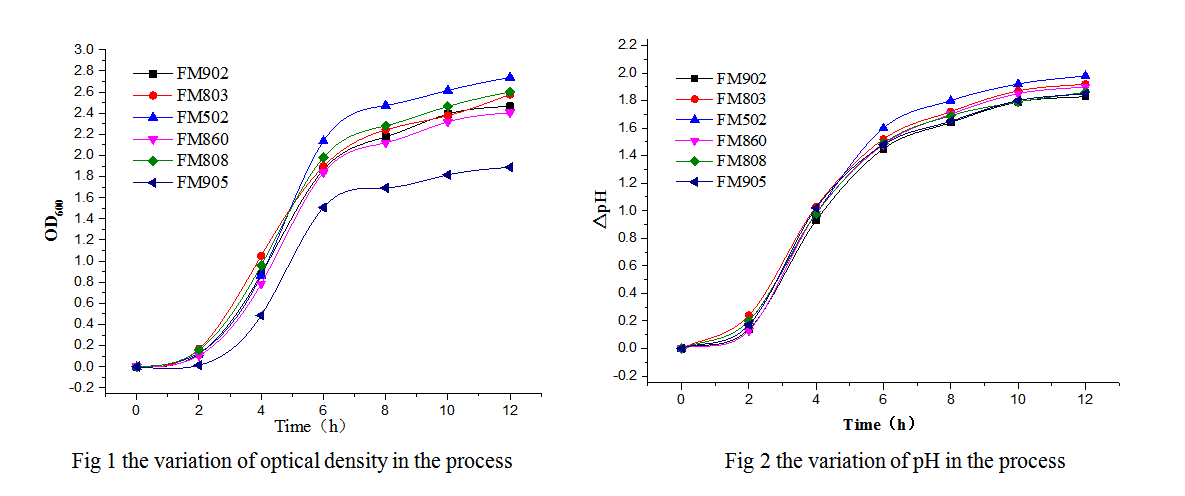 Conclusion
LABs have different nutritional requirements, Yeast extract with different characters have different functions. For instance of Lactobacillus acidophilus, yeast extract that is rich in free amino acids could shorten lag phase, but the one that is rich in nucleotides could keep balance between biomass and stability in storage to get the best performance. At the same time, this research shows brewer's yeast extract and yeast extract that is rich in polypeptides or trehalose may have some effects on improving the stress resistance.
Discussion
In this research, we find different products have different performance on different strains. In other word, no product would be suitable for all LABs. How to develop a kind of versatile yeast extract (or peptone) that is suitable for most of LABs or how to blend the products in the table 2 to get best performance is our next action.



Published by Yin Qiang


Senior manager of Angel Yeast APAC Division



About Microbial Nutrition
Angel YE, rich in protein, amino acids, peptides, nucleotides, B vitamins and trace elements. With the advantages of having no allergic source and being non-transgenic, high efficiency and stable quality, Angel YE are widely applied in the biological laboratories and industrial-scale fermentation, promoting the product safety and technical progress in the global fermentation industry.
Angel Yeast Company is a high-tech listed company specializing in yeast and biotech. Product business covers Yeast and Baking, Yeast Extract-Savoury, Nutrition & Health and Biotechnology fields. It is one of the world's leading companies in the yeast industry. Angel has 12 holding subsidiaries and provides products and services for more than 150 countries and regions.
Press contact:
ANGEL YEAST CO.,LTD
Address: 168 Chengdong Avenue, Yichang, Hubei 443003, P. R.China
Tel: +86-717-6369520, 6369558
Fax: +86-717-6370680
email: aie@angelyeast.com
---
---