By Li Shiyu



Definition
Yeast peptone
: This product uses high-protein baker's yeast as raw material, through hydrolysis, separation, concentration, and spray drying processes to prepare a safe, stable, and nutritionally complete peptone product. In the GB2760-2011 standard issued by China, yeast and milk are included in the appendix of the standard. The food classification number of yeast is 16.04, which shows that yeast is safe.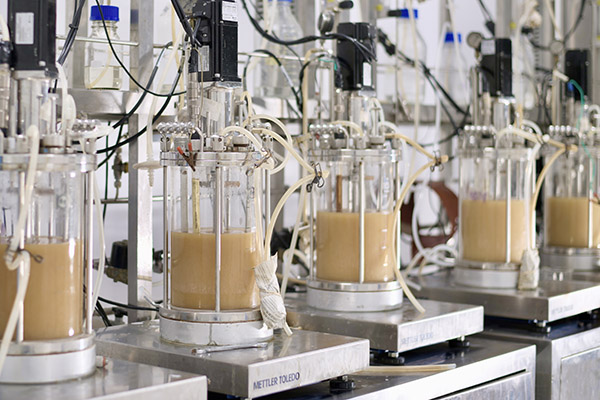 Yeast contains 8 kinds of amino acids needed by the human body, and the protein content in high-protein yeast exceeds 50%. In addition, yeast cells also contain glucan, mannan, vitamins (mainly B vitamins, biotin, etc.), nucleic acids, nucleotides, ergosterol and trace elements.

The protein raw material of yeast peptone is derived from baker's yeast. It has no genetically modified, no pathogenicity, no allergens, no customs taboos and other issues, which will help users to be approved by international certifications such as KOSHER and HALAL; in addition, from a nutritional point of view, Animal and plant-based peptone have a single nutrient composition. However, in addition to being rich in protein, peptides, and amino acids, yeast peptone is also rich in nucleotides, B vitamins and biotin, etc., which can provide comprehensive and balanced nutrition to microorganisms and cells. Used in conjunction with yeast extract and other medium components, it can promote the growth and metabolism of microorganisms and cells as well as production efficiency.
1. Application of yeast peptone on probiotics
It is a general trend to get rid of animal and plant-based peptones in the probiotic industry. Some animal and plant-based proteins are usually allergenic and vary greatly from batch to batch. Facts have proved that Angel Yeast Peptones (FP series products) are the most suitable new nitrogen sources for maintaining high biomass and high vitality in the industrial production of probiotics.
Microbial nutrition institute of Angel Yeast Co., Ltd. specially developed a new type of yeast peptone--Yeast peptone FP103. Researchers and technicians from the Microbial nutrition institute conducted experiments in the laboratory and compared FP103 with other peptones (peptones of animal and plant origin). The test showed that yeast peptone FP103 can increase the production of bacteria, promote the number of viable probiotics, and increase the shelf life.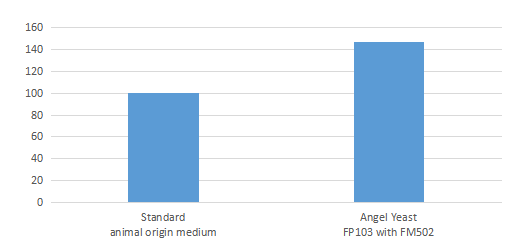 Angel Yeast Peptone FP103 is an excellent nutrient source for lactic acid bacteria and probiotics, especially containing a large number of medium-sized peptides, which can be used as growth factors. FP103 can effectively replace the plant and animal peptones that are commercially used for the cultivation of lactic acid bacteria and bifidobacteria.
3. Application of yeast peptone on protein expression of engineered bacteria
In the field of protein expression, researchers successfully replaced tryptone with FP103.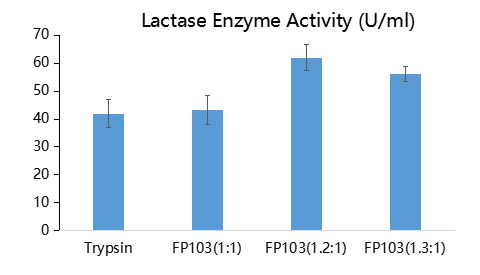 A customer used yeast peptone FP103 to replace tryptone in different proportions, and the results showed that FP103 had the best replacement effect at 1.2:1.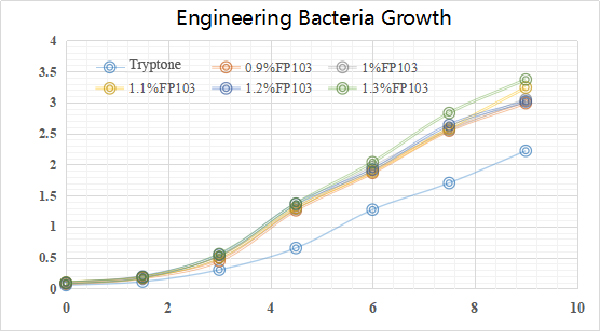 The mannanase-producing engineered bacteria BL21 (DE3) was used to compare and test the effect of yeast peptone instead of tryptone on the growth and protein expression of the engineered bacteria. The results showed that the 1.1:1 ratio was the best, and each ratio replaced the biomass and protein of the engineered bacteria. The expression is better than comparable products.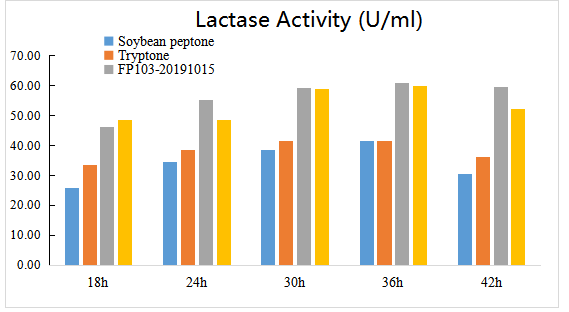 The customer used yeast peptone FP103 to replace soy peptone and tryptone in the same amount for protein expression production, which can achieve better results.
Published by Li Shiyu


R&D expert of Protein Nutrition and Flavoring technology center



Angel YE, rich in protein, amino acids, peptides, nucleotides, B vitamins and trace elements. With the advantages of having no allergic source and being non-transgenic, high efficiency and stable quality, Angel YE are widely applied in the biological laboratories and industrial-scale fermentation, promoting the product safety and technical progress in the global fermentation industry.
Angel Yeast Company is a high-tech listed company specializing in yeast and biotech. Product business covers Yeast and Baking, Yeast Extract-Savoury, Nutrition & Health and Biotechnology fields. It is one of the world's leading companies in the yeast industry. Angel has 12 holding subsidiaries and provides products and services for more than 150 countries and regions.
Address: 168 Chengdong Avenue, Yichang, Hubei 443003, P. R.China
email: aie@angelyeast.com