[Recipe] Toast
April 30, 2019
By East Huang
Toast is a form of bread that has been browned by exposure to radiant heat. This browning is the result of a Maillard reaction altering the flavor of the bread and making it firmer so that it is easier to spread toppings on it. Toasting is a common method of making stale bread more palatable. Bread is often toasted using a toaster, but toaster ovens are also used. Though many types of bread can be toasted the most commonly used is "sliced bread", referring to bread that is already sliced and bagged upon purchase and may be white, brown, multigrain, etc.
Toast is commonly eaten with butter or margarine, and sweetened toppings, such as jam or jelly. Regionally, savory spreads, such as peanut butter or yeast extracts, may also be popular. When buttered, toast may also be served as an accompaniment to savory dishes, especially soups or stews, or topped with heartier ingredients like eggs or baked beans as a light meal. Toast is a common breakfast food. While slices of bread are most common, bagels and English muffins are also toasted.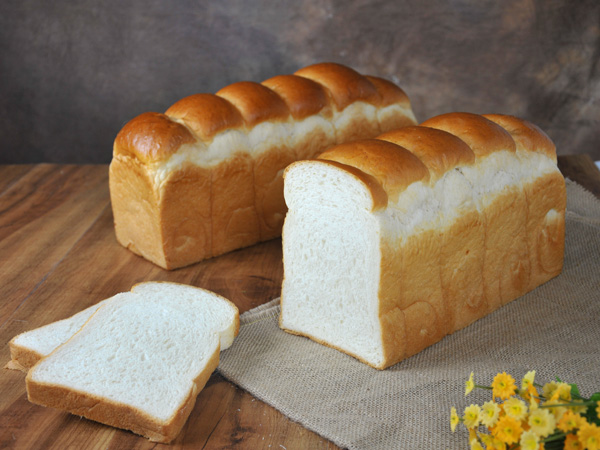 | | | |
| --- | --- | --- |
| Materials | Rate% | Weight/g |
| Bread flour | 100 | 1000 |
| Water | 50 | 500 |
| | 1 | 10 |
| | 0.5 | 5 |
| Salt | 1.8 | 18 |
| Sugar | 2 | 20 |
| Lard | 10 | 100 |
| Milk powder | 4 | 40 |

Put all dry matters into the mixer and mix ,then add water to mix with low speed 3min and high speed 3min,then add salt and oil and mix with low speed for 1min, final mix with high speed till finish.

Relaxing.

Cutting:150g/pic

Rolling

Shaping,rolling to strips,3 150g strips into one toast mould

Proofing:temp 38℃,humidity:80-85%.proofing time 90-120min

Baking:upper temp 220℃,bottom temp 200℃,baking for 28min
About Yeast & Baking
Angel Yeast has absorbed the essence of the global baking industry to build a baking service platform and to provide more comprehensive solutions for the baking industry.
● Promoting healthy bread in China and developing a full set of application technology to meet consumers' demands.

● Continuously innovating bread categories and new technology to bring new opportunities for the bakeries and bread factories.

● Catering to the needs of the industrialization and intelligentization of the baking industry to provide more comprehensive solutions.

● Providing training and technical services to meet the different needs of customers, users and consumers.
About Angel:
Angel Yeast Company is a high-tech listed company specializing in yeast and biotech. Product business covers Yeast and Baking, Yeast Extract-Savoury, Nutrition & Health and Biotechnology fields. It is one of the world's leading companies in the yeast industry. Angel has 12 holding subsidiaries and provides products and services for more than 150 countries and regions.
http://en.angelyeast.com
Press contact:
Angel Yeast Co., Ltd.
● Address: 168 Chengdong Avenue, Yichang, Hubei, P. R. China

● Tel: +86-717-6369520

● Fax: +86-717-6370680

● Email: aie@angelyeast.com
Related tags:
bread-recipe premium-instant-dry-yeast a800-bread-improver toast sliced-bread
---
---