Chris Guo

Consumers are seeking foods with cleaner and clearer labels
In recent years, consumers are increasingly craving for natural origin, nutritional, and sustainable foods they can trust. The industry has been focusing on transparency efforts across the store, and has made a push for clean label products across categories.
Essentially, the Clean Label means making a product using as few ingredients as possible, and making sure those ingredients are familiar and easy for the consumers to recognize and understand and contain no artificial ingredients or synthetic chemicals such as artificial flavors or colors, MSG, HVP, or I+G. In short, Clean Label embodies the concepts of minimally processed, simple, natural and wholesome foods.
According to CBI data, product launches with clean label claims in Europe grew by 10% annually in the last five years. Sales of free-from products in the UK, for example, are expected to reach £673 million by 2020, a triple increase for a period of 10 years.[1].

Source: Mintel GNPD 2014-2018
Yeast extract is being regarded as a safe, and clean labeled food ingredient
Yeast extract has been used as an ingredient in food for over 50 years. This natural origin ingredient is derived from edible fresh yeast which is a natural ingredient that has been used for centuries to make wine and bread. Yeast extracts are made up of a large number of Xianness/ umami-giving substances (such as amino acids, proteins, carbohydrates, vitamins, peptides, nucleotides, minerals, etc...) that contribute to flavor and nutrition enhancement. Thanks to its natural origin, nutritional, and tasty properties, Yeast extracts are currently used in versatile international food applications as natural flavor ingredients. It is not only perfectly in line with clean label trends, but also helps manufacturers cope with the ongoing challenges, such as sodium reduction, sugar reduction, off-notes masking, etc.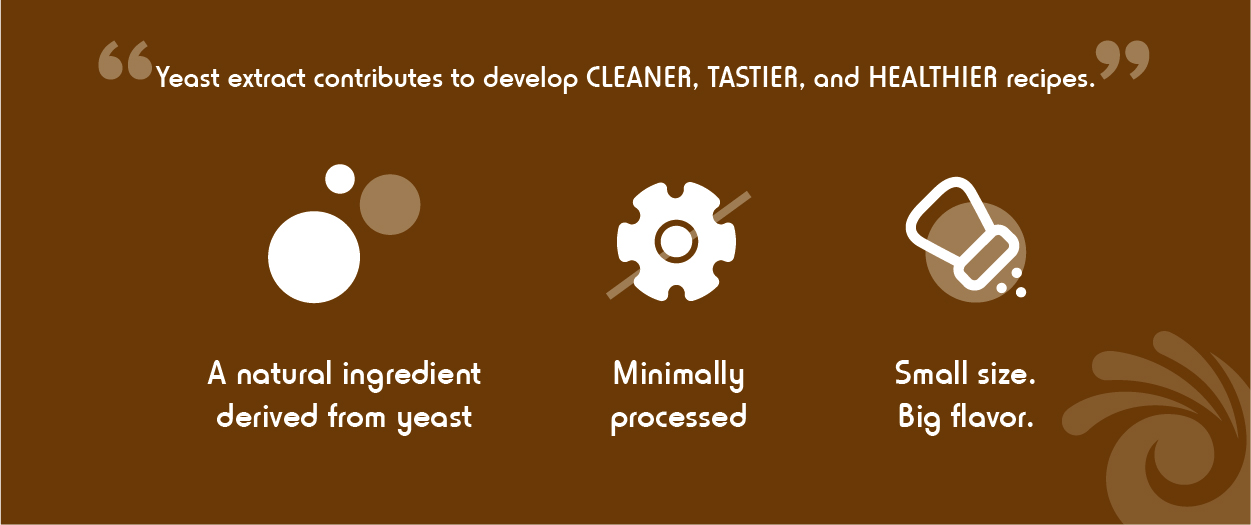 According to the Regulation(EC) No 1333/2008 of the European Parliament and the Council on food additives, YE is classified into the food category.
According to the FDA 21CFR 184, YE is defined as a safe substance that can be added to food directly. It is free from chemical additives and animal-oriented ingredients. That means, it perfectly fits for vegetarians and vegans.
With consumers' rising expectations for natural, nutritional and sustainable foods, Angel YE team has introduced a series of clean label solutions to meet producers' specific demands - replacing artificial flavors and colors, MSG substitution, I+G substitution, etc.
Natural solution to substitute MSG

Monosodium glutamate(MSG), a highly concentrated, synthetic, and processed form of glutamic acid, is a common food additive - with E-number E621 -that is used to enhance flavor. However, some consumers still say they have shied away from monosodium glutamate. Nowadays, more and more manufacturers are using yeast extract to replace MSG. Yeast Extract has natural, nutritional, and healthy properties which boost the Xian/umami quality when combining with other food ingredients.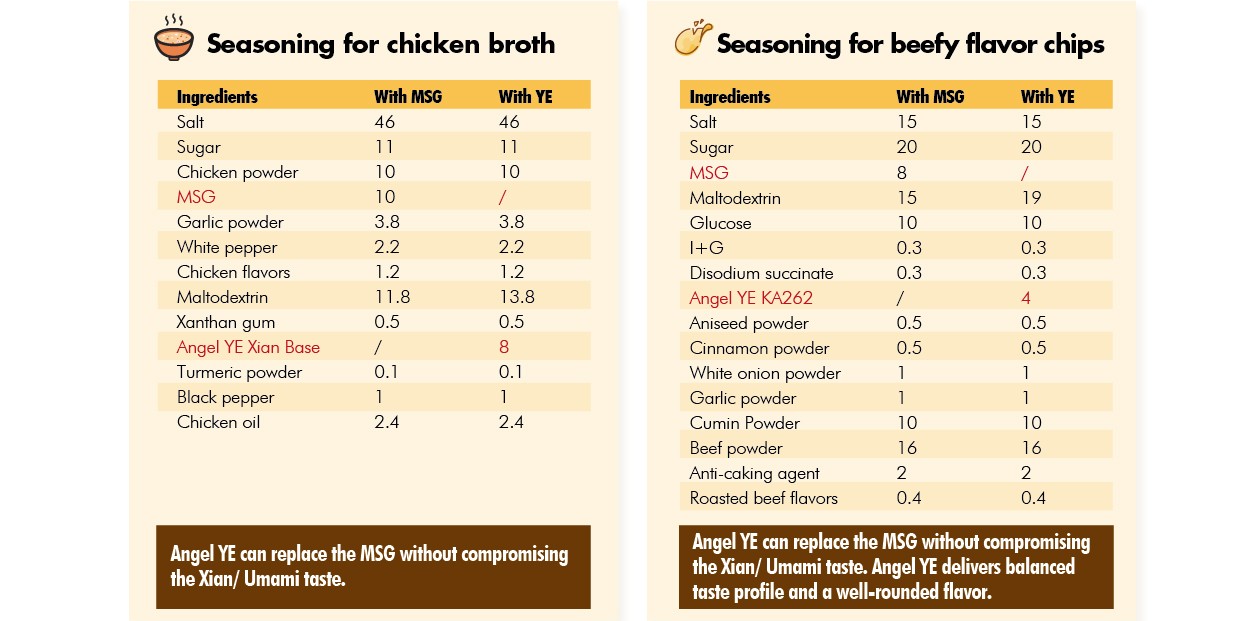 Natural solution to substitute I+G
Currently, some manufacturers have demands for I+G substitution, most of them are focusing on clean label NPD. Angel's Xiannesss/umami Yeast Extract and Hou-feel/mouthfulness Yeast Extract can substitute I+G to achieve a perfect taste profile in end products while meeting the challenge of a clean label positioning.
Natural solution to replace caramel color
Caramel color is found in many sodas, such as Coca-cola, and a few foods to give them a unique brown tinge. Angel's Dark Roasted Yeast Extract, just as its name, gives food and beverage a specific brown tinge via thermal reaction technology. It not only delivers color-enhancing characteristics but also boosts the savory notes and mouthfulness. It is vegan and contains a variety of nutritional components such as amino acids, peptides, and B Vitamins. Adding Dark Roasted Yeast Extract to create caramel color is a popular Clean Label option. Now it has been widely applied in soy sauce, vinegar, and other products.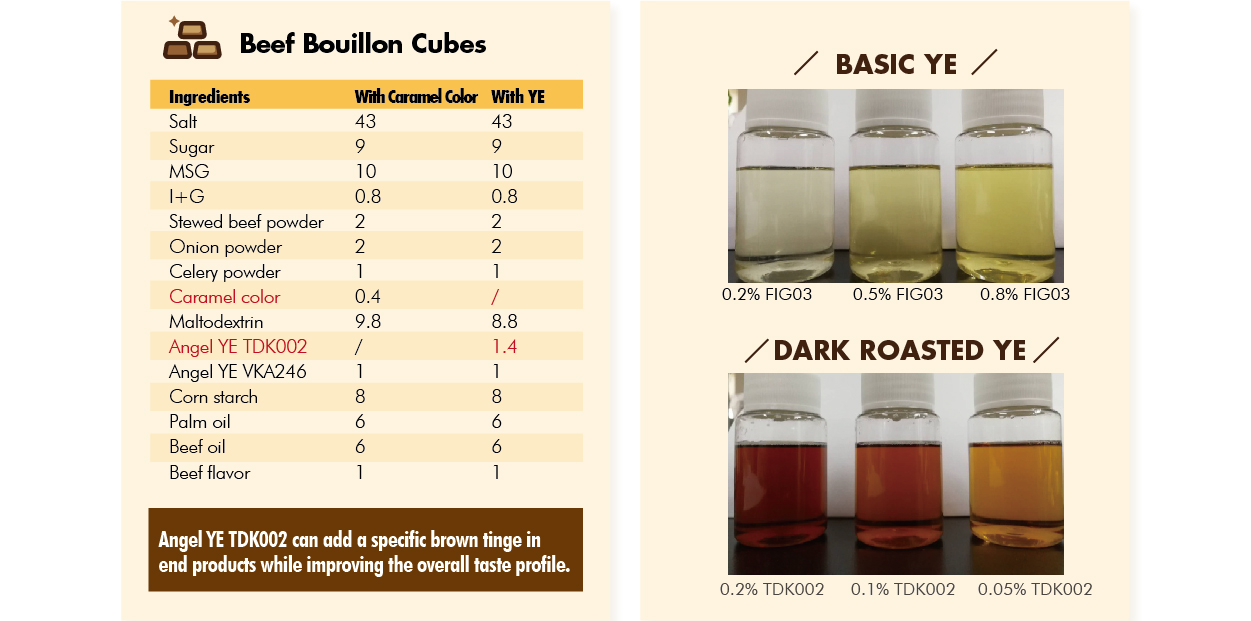 Natural solution to replace chemical flavor
Angel's Flavor Yeast Extract, an unique flavor base derived from yeast extract, can deliver distinct meaty flavor notes, such as beefy, chicken, pork, smoked meaty notes in savory food applications. It features specific and distinct flavor and boosts the complex taste profile, lingering taste, and juiciness. It is a clean label option to replace chemical flavors. What's more, it is a natural food ingredient, which could be declared as yeast extract or natural flavoring.

If you need tailor-made application solutions to make your products taste yummy, clean, and healthy, please contact yefood@angelyeast.com.
---
About Angel Yeast Extract-Savoury:

Angel YE (yeast extract) made from edible yeast, by degradation the protein and nucleic acid in the yeast cells into nutritional seasonings with the application of modern biotechnology, has the advantages of increasing the fresh flavor, reducing salt, balancing the odor, strong tolerance and food properties, which promotes the global healthy operation of salt reduction and "clean label ".
About Angel:
Angel Yeast Company is a high-tech listed company specializing in yeast and biotech. Product business covers Yeast and Baking, Yeast Extract-Savoury, Nutrition & Health and Biotechnology fields. It is one of the world's leading companies in the yeast industry. Angel has 12 holding subsidiaries and provides products and services for more than 150 countries and regions.
http://en.angelyeast.com/
Press Contact:
ANGEL YEAST CO.,LTD
Address: 168 Chengdong Avenue, Yichang, Hubei 443003, P. R.China
Tel: +86-717-6369520, 6369558
Fax: +86-717-6370680
Email: aie@angelyeast.com