September 8th, 2020

By Yin Qiang
On August 26, the 6th International Fermentation Medium Application and Development Technology Forum hosted by Angel Yeast was held in Shanghai New International Expo Center.

At the opening ceremony, Mr. Shi Weichen, Honorary Chairman of the China Bio-Fermentation Industry Association, reviewed the tremendous achievements made by China's bio-fermentation industry in the past 30 years, and affirmed the contribution from Angel Yeast Co., Ltd. to promoting the green and healthy development of China's bio-fermentation industry. Mr. Shi Weichen said that China is transforming from a major bio-fermentation country to a bio-fermentation powerhouse, and hopes that the new organic nitrogen source field will continue to forge ahead and make greater contributions to industry innovation, efficient use of resources, and environmental protection and green development. Experts from well-known scientific research institutions and related companies discussed in depth the important role of organic nitrogen sources in the biological fermentation process, the key points and difficulties in the application, and the quality identification of organic nitrogen sources and the characteristics and combinations of different nitrogen sources for the industry with solutions.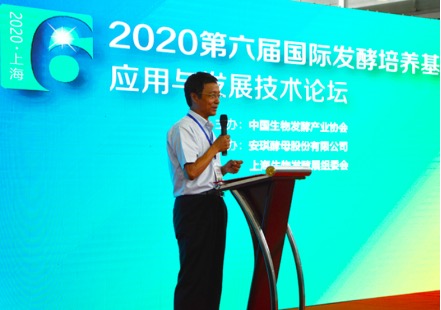 *Speech by Mr. Shi Weichen, part-time vice chairman of China National Light Industry Council and honorary chairman of China Bio-Fermentation Industry Association
More than 300 experts, scholars and business representatives from the field of biological fermentation participated in the forum on-site exchanges, and more than 2,000 people communicated online.

During the forum, the 8th Shanghai International Bio-Fermentation Exhibition (BIO CHINA) was held at the same time, and Angel special booth displayed the latest products and solutions.

---
About Angel Microbial Nutrition:
Angel YE, rich in protein, amino acids, peptides, nucleotides, B vitamins and trace elements. With the advantages of having no allergic source and being non-transgenic, high efficiency and stable quality, Angel YE are widely applied in the biological laboratories and industrial-scale fermentation, promoting the product safety and technical progress in the global fermentation industry.
About Angel:
Angel Yeast Company is a high-tech listed company specializing in yeast and biotech. Product business covers Yeast and Baking, Yeast Extract-Savoury, Nutrition & Health and Biotechnology fields. It is one of the world's leading companies in the yeast industry. Angel has 12 holding subsidiaries and provides products and services for more than 150 countries and regions.
Press contact:
ANGEL YEAST CO., LTD
Address: 168 Chengdong Avenue, Yichang, Hubei 443003, P. R.China
Tel: +86-717-6369227
Fax: +86-717-6368757
email: aie@angelyeast.com