September 5th, 2019
By Xiao Xiangqian
YeaSense has been upgraded and improved many times since it came into the market in 2017. Not only has its bacteriostatic activity been improved, but also its application effect has been recognized by users. In the user evaluation test, it was found that YeaSense could not only replace antimicrobial growth promoters in feed, but also reduce the incidence of diseases in farming sites, such as reducing the incidence of enteritis in laying hens, reducing the mortality rate in Broilers and so on.
YeaSense is not only an alternative to AGPs, but also a new choice for non-resistant health care.
The following empirical evidence comes from a white feather broiler farming enterprise in Shanxi Province. Although respiratory diseases broke out at 17 days old, affecting the overall survival rate, the results show that YeaSense still has significant advantages over other products.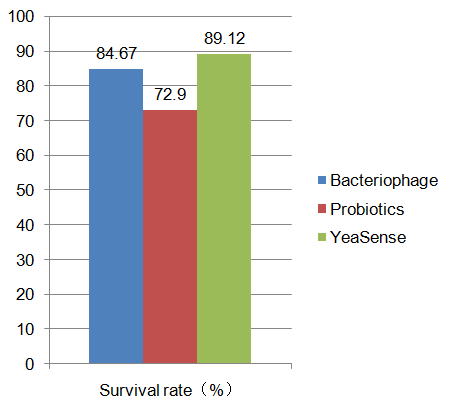 Note: The outbreak of respiratory diseases in chickens at 17 days old led to a sharp increase in the number of dead chickens.
The above chart shows that the survival rate of YeaSense increased by 5. 26% and 22. 25% compared with that of bacteriophages and probiotics, respectively.

The chart above shows that compared with the bacteriophage and probiotics, YeaSense increased its body weight by 2. 65%, 6. 42%, daily gain by 2. 72%, 6. 58% and feed ratio by 1. 55% and 5. 94%, respectively.
The evaluation experiment was carried out from March to May, 2019, with a period of 47 days and a scale of 90,000 white-feathered broilers. The products involved in the evaluation were beneficial bacteria, bacteriophages and YeaSense. According to the user's requirement, the addition of YeaSense is 1 kg/t. The experimental groups were as follows:
| Groups | Dosage |
| --- | --- |
| A | Basic diet + bacteriophage (oral, 2 days every other week, 5000 chickens per bottle/2000 chickens) |
| B | Basic diet + 400 g/t probiotics (long-term addition) |
| C | Basic diet + 1kg/t YeaSense (long-term addition) |
Spring is a season with high incidence of respiratory diseases in white feather broilers. It is necessary to do a good job in biosafety, feeding management, vaccines and drug prevention. In the treatment of drugs, macrolides or tamicin are generally used, but sensitive drugs need to be selected through drug sensitivity test. At the same time, we should also pay attention to the problem of excessive dosage, which will cause toxic and side effects, thus damaging the visceral organs of broilers, such as intestines and liver, leading to old diseases not cured, and susceptible to new diseases. Consider adding 1 kg/t YeaSense and 1 kg/t GroPro Poultry, and cooperate with drugs for prevention. YeaSense can reduce the number of intestinal pathogens and prevent complications of enteritis caused by respiratory diseases; GroPro Poultry can repair intestinal mucosa and reduce intestinal damage caused by antibiotics.

---
About Angel Animal Nutrition:
Fubon is a brand of Angel Animal Nutrition. Fubon is committed to developing natural, efficient microbial feed derived from yeast with Angel's leading technology in yeast industry, providing the best service solutions for the nutrition and health in animals. Angel Animal Nutrition creates value for global feed and animal agriculture customers through continuously upgraded products and professional services.
About Angel:
Angel Yeast Company is a high-tech listed company specializing in yeast and biotech. Product business covers Yeast and Baking, Yeast Extract-Savoury, Nutrition & Health and Biotechnology fields. It is one of the world's leading companies in the yeast industry. Angel has 12 holding subsidiaries and provides products and services for more than 150 countries and regions.
Press contact:
ANGEL YEAST CO.,LTD
Address: 168 Chengdong Avenue, Yichang, Hubei 443003, P. R.China
Tel:+86-717-6369520, 6369558
Fax:+86-717-6370680
email: aie@angelyeast.com