Apr 8, 2021

By Gong Fayuan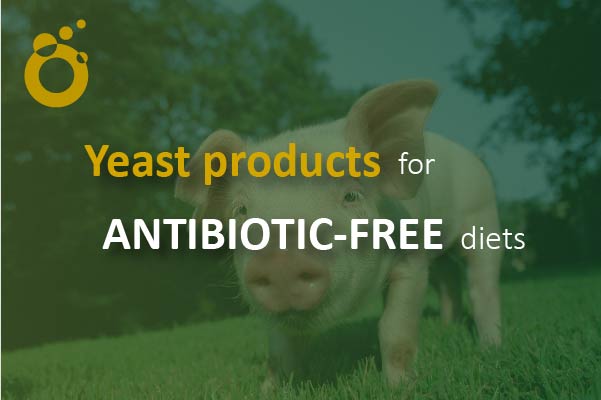 There is a worldwide movement to support a sustainable agricultural system that involves sustaining farmers, resources, and societies. It is expected that this can be achieved by upgrading farming practices that are profitable, environmentally sound, good for communities, and antibiotic-free. However, raising animals without antibiotics is a challenge, and especially, antibiotic-free meat, egg, or milk production is a growing challenge in many developing countries, such as China.
Many feed additives are marketed to assist in boosting animal's immune systems, regulate gut microbiota, and reduce negative impacts of environmental challenges. The most commonly used feed additives include acidifiers, zinc, and copper, prebiotics, direct-fed microbials, nucleotides, and plant extracts. Inclusion of pharmacological levels of zinc and copper, certain acidifiers, and several plant extracts have been reported to result in improved growth performance or improved immune function for animals.
Among them, yeast product is another good choice. The term "yeast" was derived originally from the Dutch word "gist," which refers to the foam formed during the fermentation of beer wort. Yeast has been widely used for many years not only for human food but also for animal feed because few other microbial organisms match the yeasts in terms of historical, economic, and scientific significance. In addition to their role in the production of fermented foods and beverages, the yeasts play various roles in livestock feeding and veterinary practices as well as in medicine and the biomedical and pharmaceutical industries. Actually, different yeast products have similar functions to antibiotics more or less for the animal.
Table 1 Application of Yeast in Alternative Antibiotics
| | |
| --- | --- |
| Benefits of AGPs | Yeast as Alternatives to AGPs |
| Improve intestine structure, promote the absorption of nutrients | GroPro is a high digestibility functional protein source, which can repair intestinal damage, protect the integrity of the intestinal structure, and promotes the absorption of nutrients |
| Reduce the number of intestinal micro-organisms, reduce the consumption of nutrients on microorganisms | YeaVita regulates intestinal microorganisms, improve feed conversion |
| Reduce pathogen infection, reduce subclinical infection, thereby promoting growth | YeaSense is a natural antimicrobial, a kind of yeast essence capable of producing inhibition zone |
| AGPs cannot increase host immunity | YeMOS improves the host immunity, blocks pathogens, reduces infection. |
In the following, we will introduce in details how do these yeast products play a role in antibiotic-free diets.
1 GroPro-functional protein from yeast for better intestinal health and nutrient absorption
GroPro is a functional nucleic acid and protein source from saccharomyces cerevisiae. It had been widely used to improve palatability, immunity, intestine health, and high-quality protein alternative for different animals.
For swine, GroPro can replace SDPP (Spray Dried Porcine Plasma) in creep feed and promote growth for weaned pigs.

Fig 1 GroPro Swine replace 2% SDDP increase piglet growth and improve FCR
(CON: Complete feed contain 4% SDPP; GroPro: Complete feed contain 2% SDPP and 2% GroPro Swine)
Table 2 Summary of application of GroPro for weaned piglet
| | | | | |
| --- | --- | --- | --- | --- |
| Item | Dosage (kg/t) | ADFI (g/d) | ADG (g/d) | F/G |
| 1 | 3 | Limit feed | +76(398) | -0.28(1.76) |
| 2 | 3 | +76(216) | +74(209) | -0.03(1.08) |
| 3 | 2 | +20(770) | +33(397) | -0.10(1.94) |
| 4 | 3 | +39(820) | +11(481) | -0.05(1.71) |
| 5 | 5 | +58(820) | +31(481) | -0.00(1.71) |
| 6 | 5 | +43(582) | +67(321) | -0.22(1.83) |
| 7 | 3 | +24(460) | +27(307) | -0.05(1.50) |
| 8 | 5 | +15(782) | +45(415) | -0.15(1.88) |
| 9 | 4 | +60(450) | +48(256) | -0.08(1.76) |
| Average | | +37 | +46 | -0.11 |
For poultry, GroPro can promote growth and reduces mortality in broiler and improve laying rate.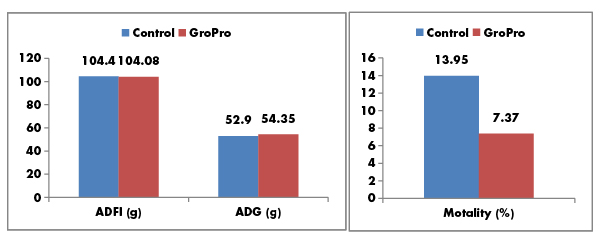 Fig 2 GroPro Poultry Improved growth performance and reduced mortality for broiler
(Experiment animals: 84,000 of 1-day-age broilers Trial period: 42 days Usage: Add 0.08% GroPro to a standard ratio.)

Fig 3 GroPro Poultry increased laying rate
(Experiment animals: 288 of 32-weeks-age hy-line brown layers Trial period: 2 weeks Usage: Add 0.1% GroPro Poultry to standard ration.)
2 YeaVita-fungal probiotic for gut health
YeaVita is high purity live yeast product which could be used as a fungal probiotic for the animal. It is produced by submerged fermentation of specially selected strains of saccharomyces cerevisiae from animal intestine or rumen and adapts to improve gut health and feed digestion via regulating the intestine microflora or rumen microflora.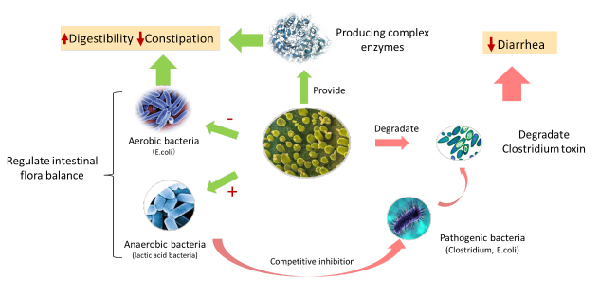 Fig 4 Mode of action for YeaVita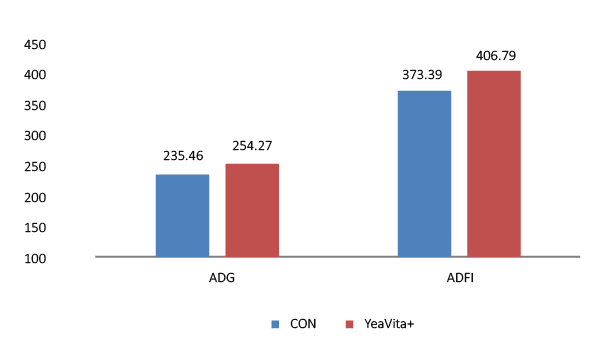 Fig 5 YeaVita increase digestibility and improve growth rate compared with antibiotic
(Animal: 222 nursing piglet; Period: 14 days; CON: Quinocetone(50%) 100g/t, Aureomycin(15%) 500g/t; YeaVita: Quinocetone(50%) 50g/t, Aureomycin(15%) 250g/t + YeaVita 500g/t)
3 YeaSense - natural antimicrobial for yeast
YeaSense is a natural antimicrobial, a kind of Yeast Essence capable of producing a zone of inhibition that could be used as a new antibiotic alternative directly.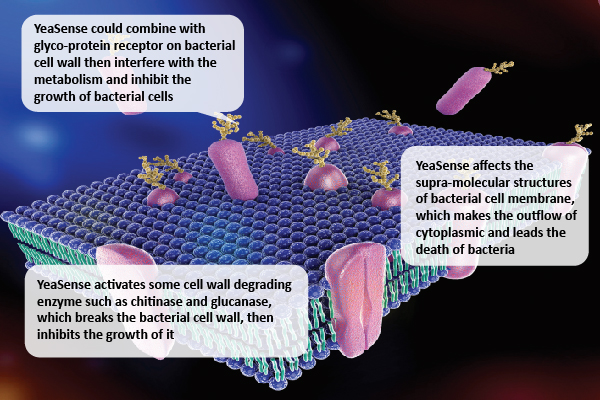 Fig 6 Mode of action for YeaSense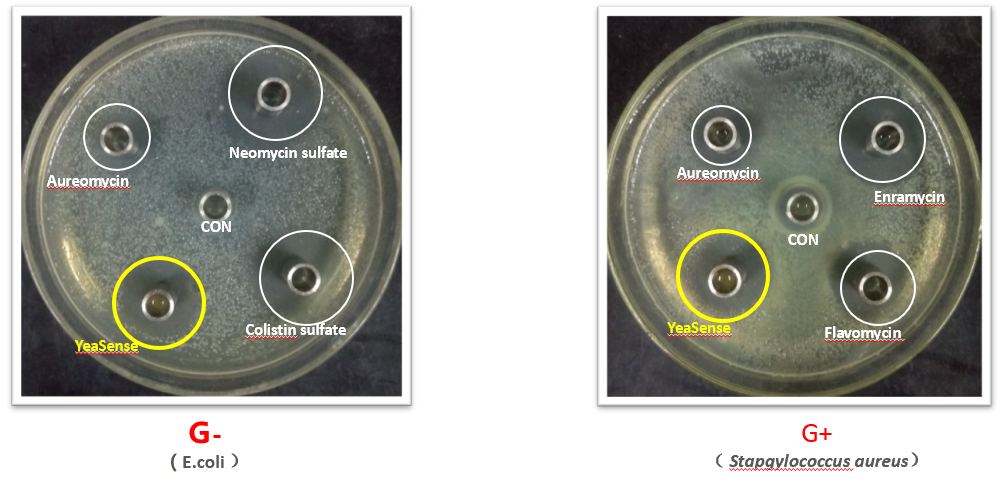 Fig 7 YeaSense could inhibit G- and G+ the same to AGPs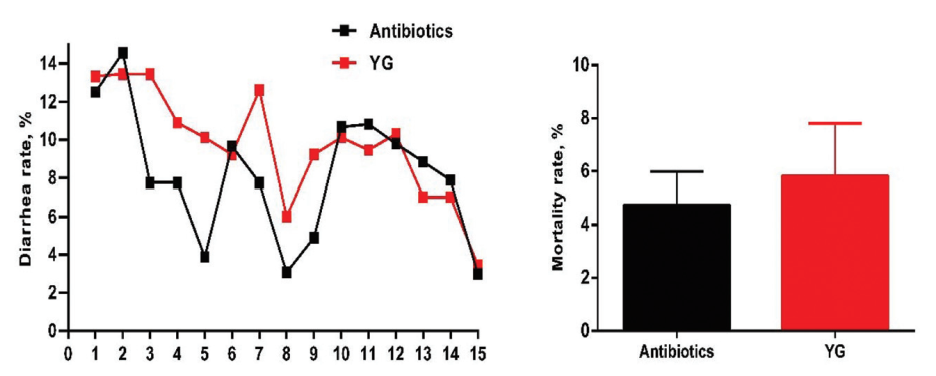 Fig 8 Effect of YeaSense replace AGPs on diarrhea and mortality

(Animal:240 weaning piglets; AGPs Treatment: Enduracidin(4%) 250g/t, Quinocetone(50%) 100g/t, Aureomycin(15%) 500g/t;YeaSense Treatment: YeaSense 800g/t; period:28 days)
4 YeaMOS- improves the host immunity, blocks pathogens, reduces infections
YeaMOS is a natural component derived from Saccharomyces cerevisiae. The main efficient ingredients are β-glucan and mannan, which can increase immunity, block pathogens and bind mycotoxins (especially Zearalenone).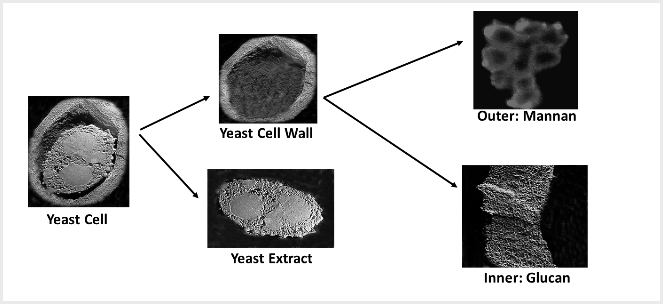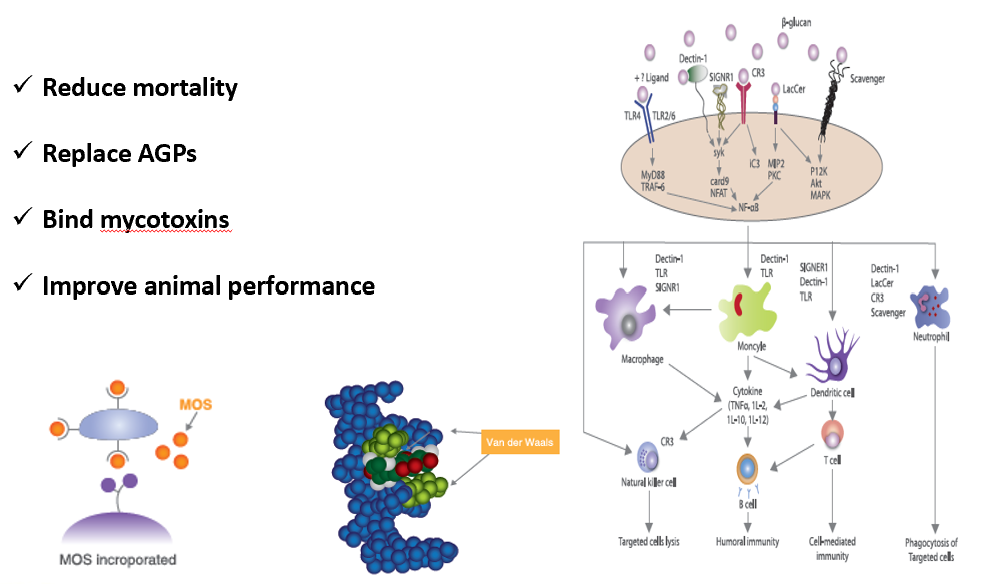 Fig 9 Mode of action for YeaMOS
Table 3 Effect of YeaMOS replace antibiotics on growth performance of piglet
| | | |
| --- | --- | --- |
| | YeaMOS+1/2AGPs | AGPs |
| Initial weight(kg) | 6.96±0.62 | 6.85±0.81 |
| Final weight(kg) | 17.33±1.82 | 16.41±1.86 |
| ADG(g/d) | 352.55±48.60 | 320.40±81.79 |
| ADFI(g/d) | 456.63±82.38 | 402.14±84.35 |
| F/G | 1.28±0.10 | 1.48±0.25 |
(Period: 2 weeks; AGPs: kitasamycin 55ppm+colistin sulfate 20ppm;1/2AGPs+YeaMOS: 1000 g/t YeaMOS+ kitasamycin 28ppm+colistin sulfate 10ppm)
5 Conclusion
Yeast products have significant effects in increasing the quality of raw materials and digestion and utilization, improving animal intestinal health and immunity, preventing diseases, and so on, which means they can be widely used in antibiotic-free diets.
Published by Gong Fayuan

Senior Engineer of Animal Nutrition Division
---
About Angel Animal Nutrition:
Fubon is a brand of Angel Animal Nutrition. Fubon is committed to developing natural, efficient microbial feed derived from yeast with Angel's leading technology in yeast industry, providing the best service solutions for the nutrition and health in animals. Angel Animal Nutrition creates value for global feed and animal agriculture customers through continuously upgraded products and professional services.
About Angel:
Angel Yeast Company is a high-tech listed company specializing in yeast and biotech. Product business covers Yeast and Baking, Yeast Extract-Savoury, Nutrition & Health and Biotechnology fields. It is one of the world's leading companies in the yeast industry. Angel has 12 holding subsidiaries and provides products and services for more than 150 countries and regions.
Press contact:
ANGEL YEAST CO.,LTD
Address: 168 Chengdong Avenue, Yichang, Hubei 443003, P. R.China
Tel:+86-717-6369520, 6369558
Fax:+86-717-6370680
email: aie@angelyeast.com