From November 15 to 18, EuroTier, the international livestock industry fair, was held in Hanover, Germany. On behalf of Angel, the European business department of the company exhibited with a special booth to expand the market in new areas of animal nutrition, develop channels and dig new demands.
With the goal of "sales promotion", Angel actively promotes "self-produced + trade" products, and closely follows the development momentum of the pet industry, focusing on popularizing inactive yeast cell wall products. And the business department of the company adheres to the idea of "seeking development", deeply explores the supply of competitive products and user demand information, and accumulates ideas for exploring new customers and developing new products.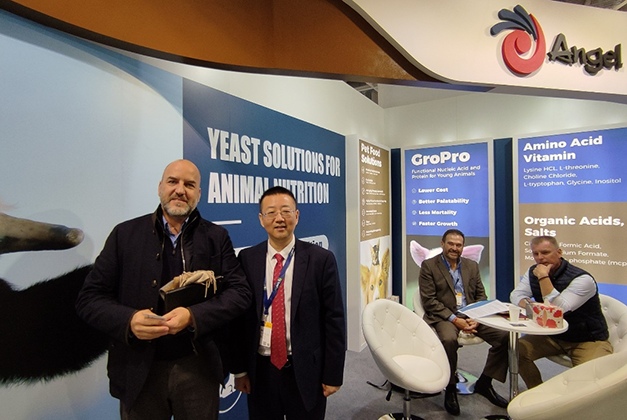 European business department team of Angel receives visitors at the EuroTier Angel booth
There were many customers coming to the exhibition, not only from the European region, but also from feed, additive and farming companies from all over the world. By presenting solutions for various animal fields at the exhibition, the awareness and professionalism of the Fubon brand have been increased in the international market. Through the exchange of product solutions with customers, we not only deepen our understanding of customer needs, but also further clarify the direction of product improvement and development, laying a solid foundation for achieving high growth in the future.
---
About Angel Animal Nutrition:
Fubon is a brand of Angel Animal Nutrition. Fubon is committed to developing natural, efficient microbial feed derived from yeast with Angel's leading technology in yeast industry, providing the best service solutions for the nutrition and health in animals. Angel Animal Nutrition creates value for global feed and animal agriculture customers through continuously upgraded products and professional services.
About Angel:
Angel Yeast Company is a high-tech listed company specializing in yeast and biotech. Product business covers Yeast and Baking, Yeast Extract-Savoury, Nutrition & Health and Biotechnology fields. It is one of the world's leading companies in the yeast industry. Angel has 12 holding subsidiaries and provides products and services for more than 150 countries and regions.
Press Contact:
ANGEL YEAST CO.,LTD
Address: 168 Chengdong Avenue, Yichang, Hubei 443003, P. R.China
Tel:+86-717-6369520, 6369558
Fax:+86-717-6370680
email: aie@angelyeast.com