November 9th, 2020
by Xiangqian Xiao
November 8th, Fubon participated in the sixth "International Animal Intestinal Ecology and Health in China Summit Forum" (IAIEH Forum) and gave a presentation on yeast active substance enhancing intestinal health of animals.
The sixth IAIEH Forum was held in Zhengzhou in China. The topics of this forum include intestinal health of animals, solutions of antibiotic free commercial feed, reduction of inflammatory response without antibiotics, low protein diet and optimization of animal health through processing technology.
Yeast active substances are from natural yeast or produced during yeast fermentation. They are benefit to intestinal health, immune and oxidation balance, gene expression regulation and prevention of non-communicable diseases.
The active substances from yeast include small peptides, nucleic acid, nucleotide, beta-glucan, mannan oligosaccharide, etc. The active substances produced in the process of yeast fermentation include glutathione, yeast metabolites, astaxanthin, yeast trace elements (selenium yeast) and so on.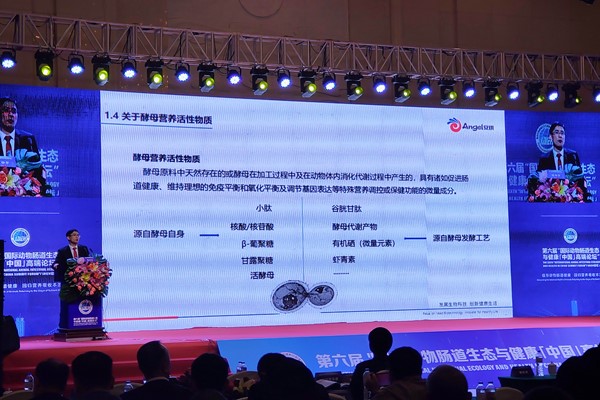 ---
About Fubon Animal Nutrition:
Fubon is a brand of Angel Animal Nutrition. Fubon is committed to developing natural, efficient microbial feed derived from the yeast with Angel's leading technology in yeast industry, providing the best service solutions for the nutrition and health in animals. Angel Animal Nutrition creates value for global feed and animal agriculture customers through continuously upgraded products and professional services.
About Angel:
Angel Yeast Company is a high-tech listed company specializing in yeast and biotech. Product business covers Yeast and Baking, Yeast Extract-Savoury, Nutrition & Health and Biotechnology fields. It is one of the world's leading companies in the yeast industry. Angel has 12 holding subsidiaries and provides products and services for more than 150 countries and regions.
Press contact:
ANGEL YEAST CO., LTD
Address: 168 Chengdong Avenue, Yichang, Hubei 443003, P. R.China
Tel: +86-717-6369520, 6369558
Fax: +86-717-6370680
email: aie@angelyeast.com