Mar.17, 2022
by Zoe Yang
On the morning of February 19, the 4th Angel "Golden Wing Award" Commendation Ceremony was held in the lecture hall on the R&D complex of Angel Yeast.
Founded in 2017, the Golden Wing Award is a special honor established by the Company for excellent brand and communication workers, aiming to guide and motivate brand & communication workers to firmly grasp the Company's strategy, enhance the spirit of innovation, promote bette rbrand & communication work, and cultivate more talents to provide better services for high-quality development of Angel Yeast.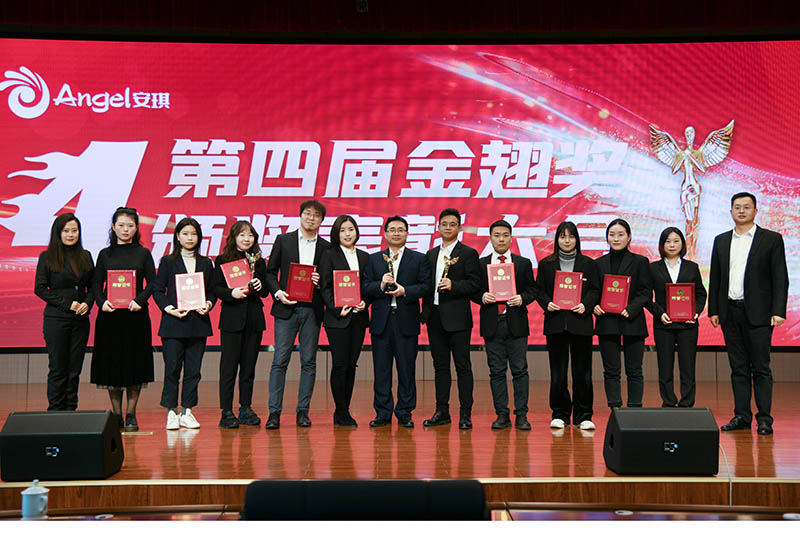 Xiao Minghua gave a speech guiding the Company's brand & communication work. He pointed out that product is the cornerstone of brand strategy, and that it is increasingly difficult to efficiently convey product ideas and information to consumers in an era full of fragmented information, which puts forward higher requirements for communication. He said that we should continue to "Invite in and go out", emancipate our minds, and strengthen the study and exchange among brand & communication workers in all departments.
Xiao Minghua gave two suggestions for brand & communication work: On the one hand, it is necessary to adhere to consumer demand orientation, differentiated marketing strategies and focus laws. On the other hand, it is necessary to pay attention to the close coordination of "R&D, technology and product planning", and to work together to create competitive products.
---
About Angel:

Angel Yeast Company is a high-tech listed company specializing in yeast and biotech. Product business covers Yeast and Baking, Yeast Extract-Savoury, Nutrition & Health and Biotechnology fields. It is one of the world's leading companies in the yeast industry. Angel has 12 holding subsidiaries and provides products and services for more than 150 countries and regions.
http://en.angelyeast.com/
Press contact:
ANGEL YEAST CO., LTD
Address: 168 Chengdong Avenue, Yichang, Hubei 443003, P. R. China
Tel: +86-717-6369520, 6369558
Fax: +86-717-6370680
email: aie@angelyeast.com