May 06, 2021
By Estella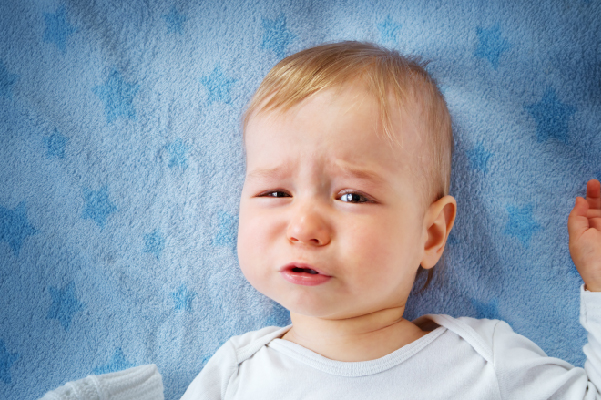 Recently, many babies have suffered the allergies caused by season changes. An outing on spring days or a walk along the river at nightfall may lead to several days' allergies and discomfort. The babies will suffer skin flush and pruritus in minor cases or even have to take hormone drugs for treatment in severe cases, which will significantly affect their health and growth.
According to clinical data, the prevalence rate of babies suffering from atopic dermatitis from January to December in China is up to 30.48%, indicating that 1/3 babies younger than one year old have allergic eczema symptoms. The ratio of the babies who suffered or are suffering from allergic disease symptoms among 0-24 months' babies is as high as 40.9%, according to their parents' reports.
In other words, nearly half of all babies are suffering from allergic diseases. The repetitiveness and complications of allergic diseases are threatening babies' health and growth, and imposing significant mental pressure on parents. Considering such a high ratio, the editor believes that nearly all parents take measures for treatment only when allergic symptoms occur.
Most parents lack the awareness that efforts had better be made for disease prevention than treatment.
Angel Nutritech, an important business unit of Angel Yeast, recently launches a new product of probiotics drops consists of Lactobacillus rhamnosus (LGG) and Bifidobacterium animalis (Bb-12) strain powder. It is applicable for the early intervention against allergies for infants younger than one, especially for infants who need allergy prevention and is suffering allergic symptoms.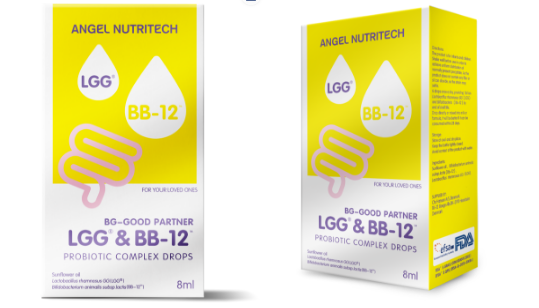 About the product
Product: PROBIOTIC COMPLEX DROPS WITH LGG® and Bb-12
Category: Food imported with original packaging
Suggest use: The solid precipitate at the bottle bottom consists of Lactobacillus rhamnosus (LGG) and Bifidobacterium animalis (Bb-12) strain powder. Please shake up before or after use. Use 6 drops each time. Take it directly or mix it with baby complementary foods for taking. It is suggested to finish up the drop within 28 days. Do not place the bottle upside down.
Net weight: 8ml/bottle
Functional components: About 1 billion CFU of Lactobacillus rhamnosus LGG and Bifidobacterium animalis Bb-12 are contained in every 6 drops (0.28ml)
Storage conditions: Cool and dry
Note: The LGG and BB-12 complex drop is applicable for the early intervention against allergies for babies younger than one, especially for babies who need allergy prevention and are suffering allergic symptoms.
About LGG
There have been a great number of test data and documentation proofs on the probiotic strain LGG in clinical eczema applications, and the eczema prevention effects for high-risk children can be extended to their age 4.
Some probiotic strains have clinically proven prevention effects on children's allergic diseases.
Lactobacillus rhamnosus (LGG) is the probiotic strain that has been studied most thoroughly and has the characteristics best known worldwide.
It is also the strain that has the largest amount of clinical literature. Its great effects on the tests on respiratory tract infection, cold, eczema and diarrhea, and other clinical tests have been proved.
About BB-12
Chr. Hansen BB-12® is a well-known bifidobacterium strain, with the most thorough clinical study in the world. Its description can be found in over 300 scientific publications, of which more than 130 publications involve the clinical study on human bodies. It is also the only bifidobacterium strain with the whole genome sequence obtained. The health care function of Chr.Hansen BB-12® has been demonstrated in many clinical studies on stomach and intestine health and immunologic functions.
Then, the editor would like to share a trade secret with you!
The common probiotic drop products in the market seldom have complex strains.
However, our product combines the two well-known strains, integrating their strengths.
(It should be known that the efficacy of probiotic products mainly depends on the quality of strains in them.)
For the common probiotics drop products in the market, the general strain content in the dosage of a single day is about 1 billion.
However, the strain content of our product in the dosage of a single day reaches 2 billion!
(Only sufficient strain content can satisfy the considerable microbial population demand for human bodies)
Product features:
Well-known fully-functional complex double strains imported with original packing
Fully functional strains LGG and BB-12 that are imported with original packing from Chr.Hansen A/S, Denmark, and industrially recognized
The nonspecific immunity guided by dendritic cells and macrophages enhances the protective effects of the mucous membrane.
The corresponding clinical study covers premature infants to the elderly, guaranteeing product quality.
The pure formula is applicable for infants and children who require easier feeding and higher safety.
Its pure formula contains no sweetening agent, and is free from fragrances or allergen. LGG, BB-12®
They are the strains approved by the former National Health and Family Planning Commission of the People's Republic of China to be used for infants and children, and thus safer and more convenient for babies younger than 6 months.
More environment-friendly and convenient with professionally-designed bottleneck and small bottle size
Professional design with inner fret-shaped dropper apertures is adopted for the bottlenecks of Angel Nutritech probiotic drops, which conforms to the EU high safety standards. Through such design, drops can be taken quantitatively and directly to avoid secondary contamination. Small-sized bodies make the bottles easier to carry, which is more environment-friendly and more convenient.
Angel Nutritech BB-12 Probiotic Drops Imported with Original Packing (Upgrading Simultaneously)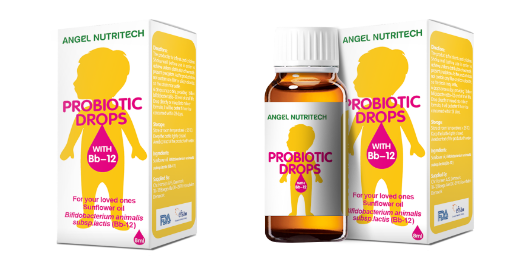 Old packaging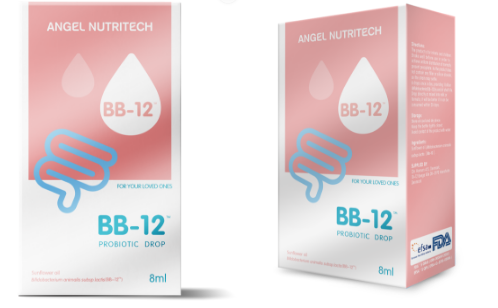 New packaging
BB-12 probiotic drops are applicable for infants younger than 3 months old.
*Note: There are several types of probiotic products on market, and common types include powder, tablets, capsules, and drops. As tablets and capsules are hard to swallow, using them for infants or children is generally not suggested. Then, we'd better choose between powder or drop products. Which one is better?
At first, drops have the advantage of convenient feeding. You can take it anywhere at any time. However, the products of drops have a shorter shelf life in general, and thus you have to finish them within their active period.
Powder products have to be taken after mixing them with water below 40℃, which is not so convenient as taking drops. However, they have a longer shelf life, and freezing-drying technology guarantees probiotic activity.
Parents can choose according to their demands.
About Angel:
Angel Yeast Company is a high-tech listed company specializing in yeast and biotech. Product business covers Yeast and Baking, Yeast Extract-Savoury, Nutrition & Health and Biotechnology fields. It is one of the world's leading companies in the yeast industry. Angel has 12 holding subsidiaries and provides products and services for more than 150 countries and regions.
http://en.angelyeast.com/
Press contact:
ANGEL YEAST CO., LTD
Address: 168 Chengdong Avenue, Yichang, Hubei 443003, P. R.China
Tel: +86-717-6369520, 6369558
Fax: +86-717-6370680
email: aie@angelyeast.com