On November 16, the production base of Angel Yeast Egypt in Beni Sweif was visited by more than 50 outstanding student representatives from the Chinese Department of Cairo University, Ain Shams University, Egyptian Chinese University and other Egyptian universities to understand the development of China's biotech and feel the Chinese corporate culture. The series of activities of "Step into Chinese Enterprises" sponsored by the Chinese Bridge Club Cairo Station was successfully held.
At the beginning of the activity, students had a deep understanding of Angel Yeast's fully automated production process through field visits. Walking into yeast workshop, packaging workshop, testing and warehousing house and other production facilities, the Egyptian college students learned Angel's application of high-tech and environmental protection solutions from fermentation, blending, drying, powder spraying, packaging and other production links.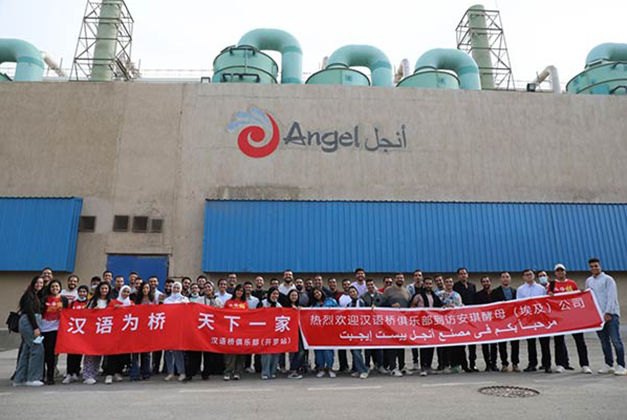 Egyptian college students visit Angel Egypt Factory ( by Chinese Bridge Club Cairo Station).
The employee representatives of Angel Company shared their growth with the students, talking about their training experience in China and the happy memories there. And they encouraged students to learn Chinese well, try to go to China and see the country in person, and feel its culture and development.
Yan Yan, the quality director of Angel Yeast Egypt, warmly welcomed the Chinese Bridge Club Cairo Station to lead students to visit the factory. And Yan briefly introduced the development of Angel Yeast, welcomed students to join Angel after graduation to work and grow together, contributing strength to promoting economic development and people's friendship between China and Egypt.
With Chinese as the medium and talent as the center, the Chinese Bridge Club Cairo Station builds a bridge and platform for Egyptian young students to communicate with Chinese enterprises. Since the series of activities of "Step into Chinese Enterprises" were carried out, they have been loved by Egyptian students for it helped more Egyptian students enter Chinese enterprises to get a close understanding of Chinese technologies.
---
About Angel:

Angel Yeast Company is a high-tech listed company specializing in yeast and biotech. Product business covers Yeast and Baking, Yeast Extract-Savoury, Nutrition & Health and Biotechnology fields. It is one of the world's leading companies in the yeast industry. Angel has 12 holding subsidiaries and provides products and services for more than 150 countries and regions.
http://en.angelyeast.com/
Press contact:
ANGEL YEAST CO., LTD
Address: 168 Chengdong Avenue, Yichang, Hubei 443003, P. R.China
Tel: +86-717-6369520, 6369558
Fax: +86-717-6370680
email: aie@angelyeast.com