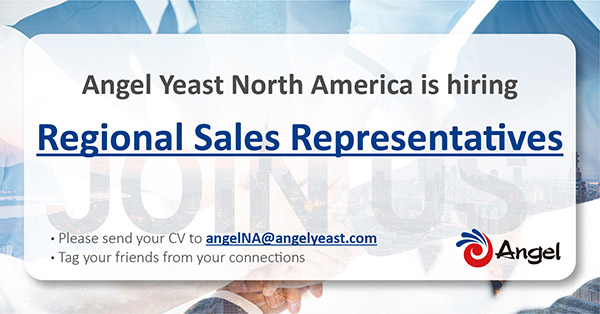 Angel Yeast North America Division is responsible for whole products marketing in North America including Yeast and Baking, Yeast Extract-savoury, Nutrition and Health, Biotechnology. Our aim is to provide best products and service to North America customers locally to help our customers get enduring success, as well as contribute to a healthier and sustainable world together.
Positions Request
1, Sales Manager (Animal nutrition market)
Requirements:
---Related working experience in yeast industry.
---Above 3 years working experience in animal nutrition.
2, Sales Manager
Requirements:
---Related working experience in yeast industry
---Patient, careful and motivated.
Working Location: USA
We offer an attractive salary package, fringe benefits and opportunities for career development.
Welcome to send us resumes by e-mail.
E-mail address: angelNA@angelyeast.com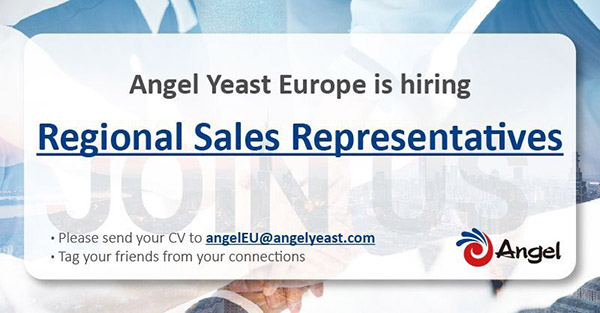 Angel Yeast Europe is hiring full-time Regional Sales Representative

Position Title: Regional Sales Representative, 5 people:
Italy, 1 person
DACH, 1 person
Spain & Portugal, 1 person
Benelux & France, 1 person
Serbia & Romania or relevant regions, 1 person

Job Description
· Responsible for the development and achievement of sales targets
· Launching new projects to increase market penetration
· Excellent commercial presentation skills
· Developing new customers, new business segments, and promoting innovative ideas for business growth.
· Monitoring and collecting relevant market data

Qualification
· Minimum 3 years of successful experience in marketing-related position;
· In-depth know-how with yeast and yeast-related products or applications in food and beverages, microbial nutrients, or animal feed;

Skills
· Excellent communication abilities and negotiation skills.
· Relationship building, collaborative and teamwork spirit;
· Strong sense of autonomy - ability to work alone without supervision and set your own priorities;
· Fluent in English (oral and written), additional language would be a plus;
· Must hold a valid driver's license and able to travel in Europe.

Please send your CV to angelEU@angelyeast.com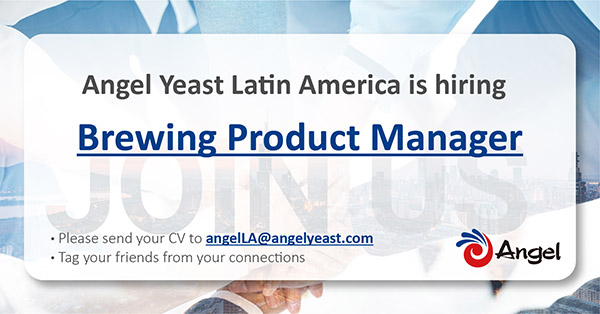 Angel Yeast Latin America Division is hiring full-time Regional Sales Representative
Position: Brewing Product Manager
Job requirements
1. Bachelor degree or above, age 30 or above.
2. At least 5 years experience in wine making and raw material sales in Chile or Argentina, familiar with the wine industry.
2. Proficient in using social media application, office and other software.
3. Business travel to Chile, Argentina or other countries in Latin America.
4. Proficient in English is preferred.
Job Responsibilities
1. Explore wine yeast and fermentation raw materials market in Chile, Argentina and even the whole Latin America.
2. Find distributing channels and end users.
3. Provide brewing technical services to customers.
4. Market research and information collection.
5. Other tasks assigned by company.
Please send your CV to angelLA@angelyeast.com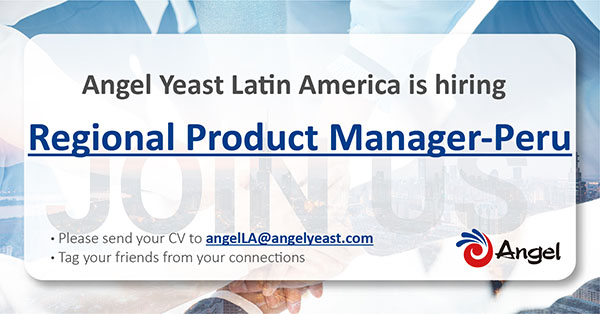 Angel Yeast Latin America Division is hiring full-time Regional Product Manager in Peru.

Position: Regional Product Manager-Peru

Requirements:
1. Person with permanent residence of Peru or Peruvian nationality
2. Recognize Chinese culture and accept the company's working methods.
3. At least one year of sales experience, the person with experience in food industry, bakery, or know yeast extract has the preference.
4. Have a driver's license and know the basic operations of the computer (Word, Excel, Powerpoint).
5. Accept short-term business trips in Peru or other nearby Latin American countries.

Responsibilities:
1. Search the information of the big users, visit it, convince them to try and use our product.
2. Visit old clients regularly to maintain the relationship.
3. Compile and feed back market information.
4. Develop new distributor and sell new products in Peru.
5. Cooperate with company staff to promote works, including business trips, exhibitions, etc.
6. Increase the reputation and influence of the brand.


Main place of work: Peru
Please send your CV to angelLA@angelyeast.com