Estella Ji
July 15, 2022
IFT FIRST, the world's leading food technology event plus the biggest B2B food expo, was held at Chicago, United States from July 10-13, 2022. Angel North American division and Latin American division have jointly participated in the exhibition.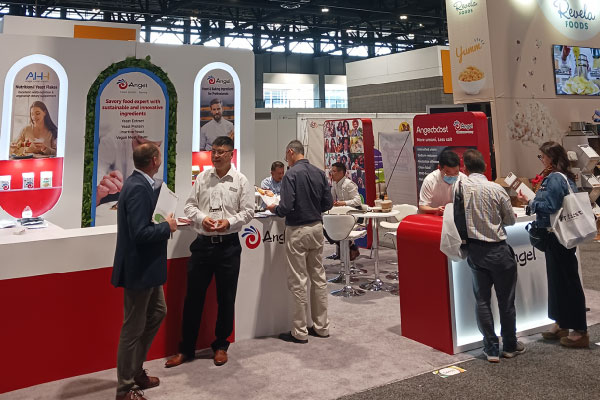 On the exhibition, Angel showcased our latest products of yeast extract, fermentation nutrients, nutrition and health and baking products, attracting many customers from the United States, Canada, Brazil, Argentina and Colombia to visit and exchange ideas.
Our new products Angeoboost (featuring high umami), AngeoPro (yeast protein) and other products attracted much attention. With the increasing attention of customers to yeast protein products and plant-based meat applications, Angel Yeast will go all out to guarantee the supply issue of plant protein products in North America.
---
About Angel Yeast
Founded in 1986, Angel Yeast Co., Ltd specializes in the production of yeast and yeast derivatives. Its product range includes baker's yeast and ingredients, Chinese dim sum and seasoning, savory yeast extract, human health, animal nutrition, plant nutrition, distilled spirits and biofuels, microbial nutrition and enzymes. At present, Angel Yeast has 11 international advanced production bases in China, Egypt and Russia, and provides products and services for more than 150 countries and regions globally.
About Angel Yeast Extract-Savoury:
Angel YE (yeast extract) made from edible yeast, by degradation the protein and nucleic acid in the yeast cells into nutritional seasonings with the application of modern biotechnology, has the advantages of increasing the fresh flavor, reducing salt, balancing the odor, strong tolerance and food properties, which promotes the global healthy operation of salt reduction and "clean label ".

Press Contact:
ANGEL YEAST CO.,LTD
Address: 168 Chengdong Avenue, Yichang, Hubei 443003, P. R. China
Tel: +86-717-6369520, 6369558
Fax: +86-717-6370680
Email: yefood@angelyeast. com