By Estella Ji
For 2022, Angel Yeast debuts new brand identity for taste solutions. Derived from natural yeast, Angel Taste Solutions is composed of 6 product ranges from yeast extract to yeast protein, providing a comprehensive portfolio for taste and innovation for food and beverage. It can bring delicious taste to foods, but also comtribute clean labels, reduce salt, sugar, and fat, and other natural and healthy purposes.
Whether the taste improvement of taste base, umami body structure, specific notes, mouthfulness, or off-notes masking, Angel Taste Solutions is dedicated to providing inspiration for flavor innovation for various savory cuisines.
The ultimate taste is our uncompromising pursuit. Thanks to food and beverage experts, formulators, and cutting-edge scientific research forces, Angel Yeast cooperates with the global food industry to explore the endless applications and fields of yeast fermentation, from beverages, vegetarian foods to future foods, from sweet to umami to endless aftertaste, we help you capture every unparalleled delicious moment and make your products stand out.
Angel Yeast is committed to better taste, healthier, and sustainable solutions for global F&B industry while better nourishing Mother Earth.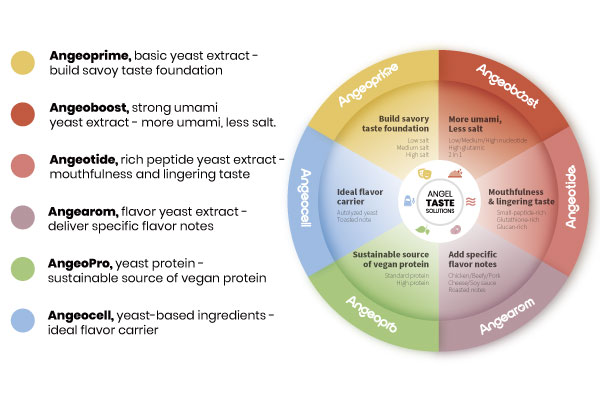 ---
About Angel Yeast
Founded in 1986, Angel Yeast Co., Ltd specializes in the production of yeast and yeast derivatives. Its product range includes baker's yeast and ingredients, Chinese dim sum and seasoning, savory yeast extract, human health, animal nutrition, plant nutrition, distilled spirits and biofuels, microbial nutrition and enzymes. At present, Angel Yeast has 11 international advanced production bases in China, Egypt and Russia, and provides products and services for more than 150 countries and regions globally.
About Angel Yeast Extract-Savoury:
Angel YE (yeast extract) made from edible yeast, by degradation the protein and nucleic acid in the yeast cells into nutritional seasonings with the application of modern biotechnology, has the advantages of increasing the fresh flavor, reducing salt, balancing the odor, strong tolerance and food properties, which promotes the global healthy operation of salt reduction and "clean label ".

Press Contact:
ANGEL YEAST CO.,LTD
Address: 168 Chengdong Avenue, Yichang, Hubei 443003, P. R. China
Tel: +86-717-6369520, 6369558
Fax: +86-717-6370680
Email: yefood@angelyeast. com