Jun 22,2022
Africa Food Manufacturing 2022 was held in the Cairo Internation exhibition center from May 29 to 31, 2022. AFM exhibition was called the FI-Africa exhibition, which is the biggest food manufacturing exhibition in Egypt and North Africa. Angel Yeast attend this exhibition by providing bakery solutions & clear label seasoning ingredients solutions.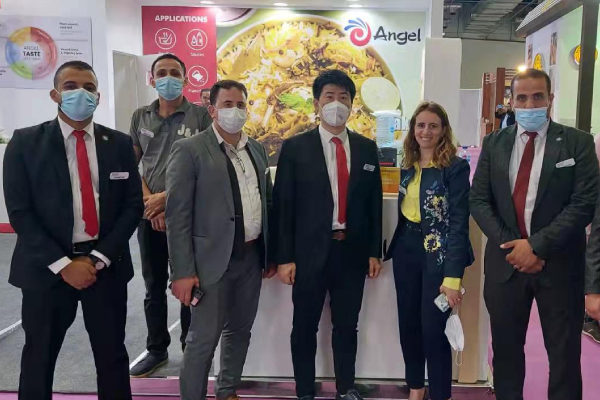 In the exhibition, Angel Yeast promoted home-use bakery products, bakery ingredients and Umami/Xian taste yeast extract - Angeoboost, which have good reviews and acceptance by customers in the exhibition.
Angel yeast Egyptian plants are one of the biggest yeast plants in Egypt and MEA areas. Angel Yeast Egyptian yeast extract production line is the first bakery yeast extract production line in the whole of Africa. Participation in this exhibition not only increases the MEA market acknowledgment of baker yeast & yeast extract but also highly increases the influence of Angel yeast in the whole MEA area food market.
---
About Angel Yeast Extract-Savoury:
Angel YE (yeast extract) made from edible yeast, by degradation the protein and nucleic acid in the yeast cells into nutritional seasonings with the application of modern biotechnology, has the advantages of increasing the fresh flavor, reducing salt, balancing the odor, strong tolerance and food properties, which promotes the global healthy operation of salt reduction and "clean label ".
About Angel:
Angel Yeast Company is a high-tech listed company specializing in yeast and biotech. Product business covers Yeast and Baking, Yeast Extract-Savoury, Nutrition & Health and Biotechnology fields. It is one of the world's leading companies in the yeast industry. Angel has 12 holding subsidiaries and provides products and services for more than 150 countries and regions.
http://en.angelyeast.com
Press Contact:
ANGEL YEAST CO.,LTD
Address: 168 Chengdong Avenue, Yichang, Hubei 443003, P. R.China
Tel: +86-717-6369520, 6369558
Fax: +86-717-6370680
Email: yefood@angelyeast.com