INTERVIEW: Chairman, Xiong Tao
Source: TWOFI
"China has enormous market potential with strong spending power. We see a positive long-term economic situation for bio-agriculture, bio-fermentation, and synthetic biology at home and overseas."
· Angel Yeast, a China-based yeast and yeast derivatives biotechnology company, reported robust growth in the first half of 2021. Revenue increased 20.6 percent year-on-year to RMB 5.234 billion (US$810 million).


· The company has set up six business divisions to handle the overseas market, with three regional headquarters in Egypt, Russia, and Singapore, with more under construction in Europe, North and Latin America. Angel Yeast aims to have 40% of its business revenue come from overseas markets by 2025.

· Angel Yeast is continuing to invest in the plant-based space, with yeast extract and its recently launched AngeoPro - a sustainable source of natural protein. The company provides meat substitute manufacturers tailor-made solutions that guarantee both nutritional value and savory taste. Angel's total production capacity of yeast extract exceeds 100,000 tons, recently, the company is already working on yeast extract production expansion in Dehong, and also acquires Bio Sunkeen.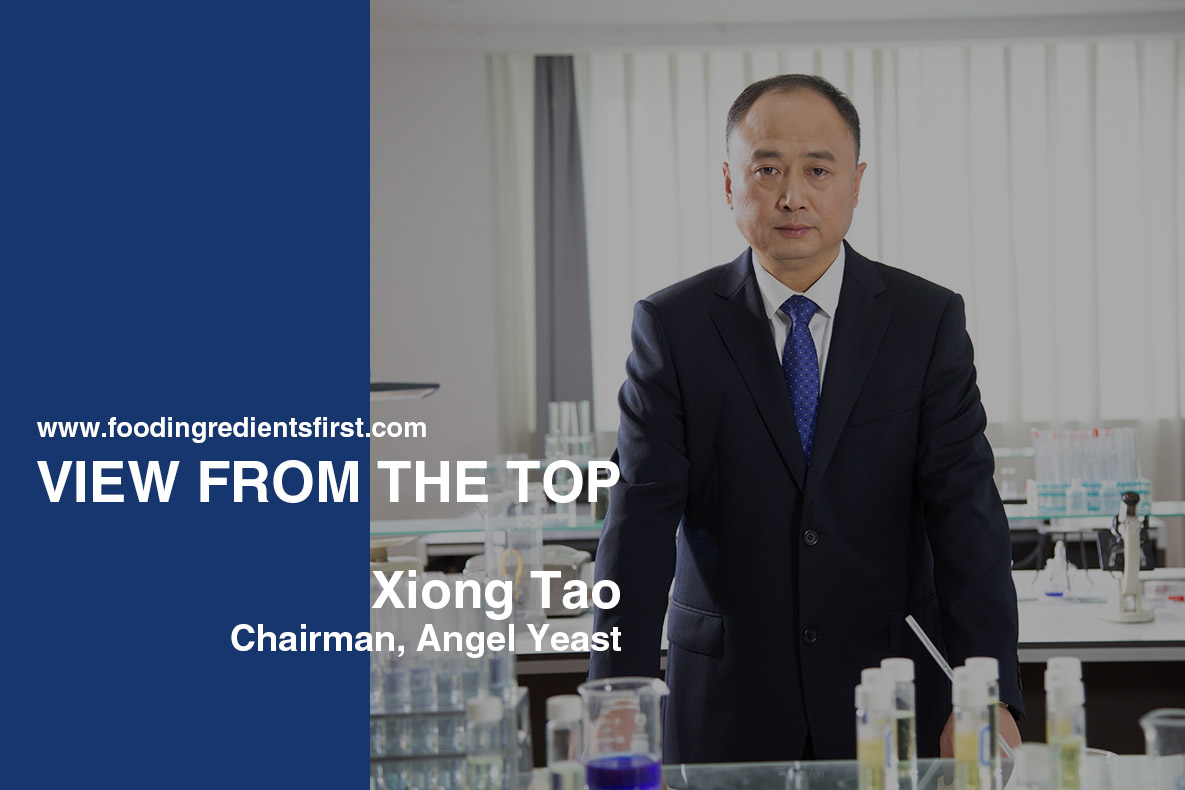 Missy: Which market sectors have the most opportunity for yeast ingredients and how does it relate to your 2025 strategy?
Xiong Tao: The growth in demand for yeast is uneven worldwide. Europe, the US, and other mature markets have large stocks and small incremental growth. In contrast, Africa, the Middle East, and the Asia Pacific markets have strong demand and immense market potential, but the competition is fierce.
Therefore, to better serve the overseas markets, we have now established six overseas business divisions, including Europe business division, North America business division, Latin America business division, Asia Pacific business division, Middle East and Africa business division, and Russia and Central Asia business division.
Overall, we believe industries such as bio-agriculture, bio-fermentation, and synthetic biology have huge market potential and space for development.
This is due to the industrialization of large-scale biomedicine, the booming plant-based meat market, and the gradual implementation of banning the use of antibiotics in livestock.
Missy: What is the connection between antibiotics and yeast?
Xiong Tao: This is related to our selenium-enriched yeast products, which can support animal's immune system. It makes them stronger and reduces the need for antibiotics. This ingredient is also available for human health.
Missy: What led to the decision to invest in new facilities in Yichang and Pu'er?
Xiong Tao: The new plant in Yichang resulted from a need to follow the urban development plan of the local government. We had to move it outside of the city center to a suburban area. At the same time, it was an excellent opportunity to improve our sustainable and smart manufacturing capabilities. We have built it to take the leading position in the global yeast industry in terms of intelligence, digitization, safety, and environmental sustainability.
While for the new plant in Pu'er, it was part of our strategy to increase production capacity to help meet future demand. We chose Pu'er because it is renowned for its local sugar industry.
Currently, most of the molasses produced from sugar production is used to manufacture alcoholic products, which has limited utilization.
That's why we want to promote the use of molasses instead for yeast production and other more environmentally friendly industries. So for us, it's an opportunity to extend the local sugar industry chain and to optimize added-value molasses. The new plant will also promote opportunities for local farmers in the region.
Missy: What will the collaboration with Novozymes and Chr. Hansen enable?
Xiong Tao: With Novozymes, We will jointly develop solutions to improve traditional Chinese foods. We will be working with them to develop enzymes that can improve the quality, taste, and nutritional characteristics of traditional Chinese food, such as noodles.
We will also use online resources to educate consumers and promote the growth of offline sales. This will contribute to the improvement of China's staple food industry. Meanwhile, our work with Chr. Hansen is to develop more probiotics strains with applications to meet the health needs of different consumer groups.
Missy: How do you stay competitive compared to other yeast producers?
Xiong Tao: We believe that innovation is the key to success. We have established high-level R&D platforms, including national-level enterprise technology center, post-doctoral research workstation, laboratories accredited by CNAS (China National Accreditation Service).
For 2021, our R&D investment will exceed 400 million yuan (US$61 million), with an annual growth rate to be above 10% in the next five years.
We have also established seven technical centers with a group of more than 600 professionals to strengthen our core basic scientific research.
A new R&D center with an investment of 200 million yuan (US$30.9) has been set up to build an advanced research platform for yeast technology and a verification platform for biotechnology products.
Missy: Does China have any distinct advantages over companies based in other parts of the world?
Xiong Tao: China has enormous market potential with strong spending power, and we see a positive long-term economic situation. There is an obvious trend of industrialization and an increased in consumption underway. We will keep improving our domestic business while developing overseas markets.
Missy: How has the COVID-19 pandemic impacted Angel's related industries?
Xiong Tao: During the most difficult time of the pandemic, we had very smooth operations in different fields, from production to sales. Although demand decreased in restaurants and bakeries, we were able to benefit from an increase in household consumption of yeast, leading us to exceed both our financial and production targets.
Chinese consumers recognize Angel as a number one brand in China for yeast and its related products, and that's why we can stand very strong during those difficult times. The COVID-19 pandemic also stimulated the demand for nutritional products, such as selenium-enriched yeast for immune health.
Missy: What is the biggest challenge Angel Yeast faces?
Xiong Tao: The biggest challenge for us now is to find new areas of business for the future. We will continue to explore yeast-related opportunities in the fields of biotechnology and health and nutrition.
Innovation is key to success, so we will keep innovating and improving our cooperation with universities and research institutes. These collaborations will bring us more opportunities to achieve breakthroughs, which will keep us moving forward.
Source: September 2021 edition of The World of Food Ingredients.
This exclusive interview was published in the September 2021 edition of The World of Food Ingredients.
Link to the following landing page: https://www.foodingredientsfirst.com/twofi/flavor-forward-snacks.html
---
---