By Estella
Jan 24, 2022
Angel Yeast Egypt got certified by NON-GMO PROJECT for its whole range of yeast extracts and inactive dried yeasts.
To support the increasing demand for Non-GMO ingredients for North American and Canadian customers, 22 yeast extract and inactive dried yeast products produced by Angel Yeast Egypt plant have received Non-GMO Project(NGP) Verification, including Angeocell range, Angeoboost range, and Angeoprime range.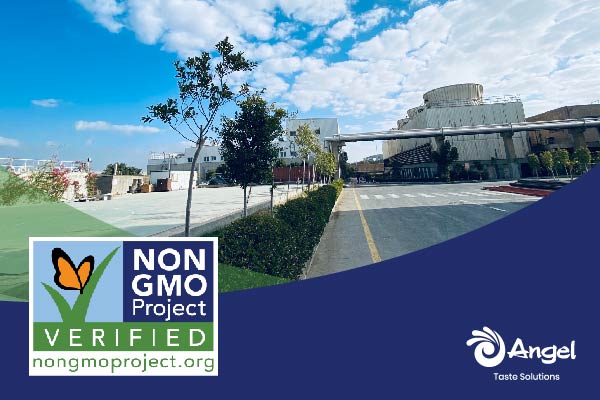 Angel Yeast is dedicated to providing our partners full set taste solutions for NON-GMO options, supporting them to achieve perfect taste and reliable quality and to meet their expectations in the new product developments.
Angel Yeast's Non-GMO Project(NGP) Verification product ranges include:

- Angeocell, inactive dried yeast, offers ideal flavor carrier.

- Angeoboost, strong umami yeast extract, makes your savory food more umami and less salt.

- Angeoprime, standard yeast extract, builds savory taste foundation.

Angel's yeast and yeast extract products are vegan, clean label, gluten-free, and kosher and Halal certified. Learn more about Angel Yeast Extract - Savory.
---
About Angel Yeast Extract-Savoury:
Angel YE (yeast extract) made from edible yeast, by degradation the protein and nucleic acid in the yeast cells into nutritional seasonings with the application of modern biotechnology, has the advantages of increasing the fresh flavor, reducing salt, balancing the odor, strong tolerance and food properties, which promotes the global healthy operation of salt reduction and "clean label ".
About Angel:
Angel Yeast Company is a high-tech listed company specializing in yeast and biotech. Product business covers Yeast and Baking, Yeast Extract-Savoury, Nutrition & Health and Biotechnology fields. It is one of the world's leading companies in the yeast industry. Angel has 12 holding subsidiaries and provides products and services for more than 150 countries and regions.
http://en.angelyeast.com
Press Contact:
ANGEL YEAST CO.,LTD
Address: 168 Chengdong Avenue, Yichang, Hubei 443003, P. R.China
Tel: +86-717-6369520, 6369558
Fax: +86-717-6370680
Email: yefood@angelyeast.com