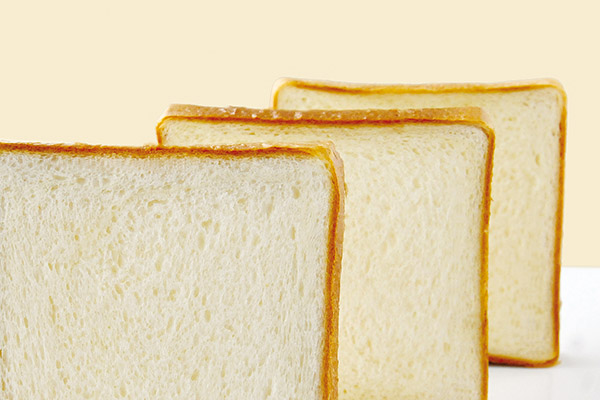 The aging of bread is similar to that of human beings, which can only be delayed by different technologies, but cannot be prevented. The aging bread gives us the intuitive feeling that it is hard, easy to fall crumbs when slicing, and tastes rough.
There are many factors affecting aging. The main reason is the recrystallization of swelling starch molecules. For bakery food processing shops or enterprises, the raw ingredients are the most easily controlled, with the combination of better compatible improvers can retard the bread aging from the roots. As a raw material for roasting fermented foods, the modifier not only increases the volume and improves the function of tissues, but also has some anti-aging agents. After more than 20 years' development and accumulation of bread improver, Angel Yeast has developed several kinds of bread improver with different functions: increasing volume, frozen dough, hamburger, French stick (Crisp effect), anti-aging (powder and paste), etc.
After technical researches, the recommended product portfolio for baked products are:
Item

Product recommended

advantage

Yeast

High living cell rate and well organized products are helpful to delay the aging of products

Improver

Powder:

Angel super soft bread improver




Through the combination of formulation, emulsifier and moisturizing technology, the tissue softness was increased and the retrogradation of gelatinized starch was delayed

Paste:

Bakerdream Compound Bread Emulsifier

The compound paste emulsifier can increase the binding water of dough and lock up the moisture
Application effect of different Bread Improvers: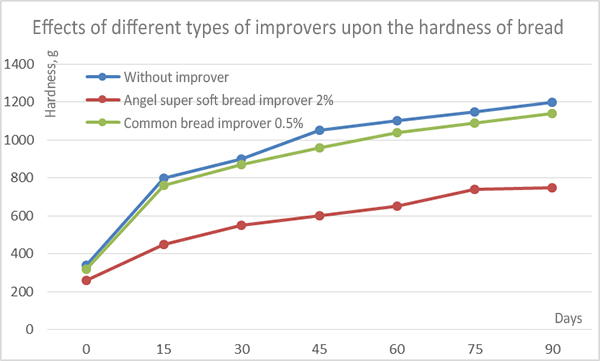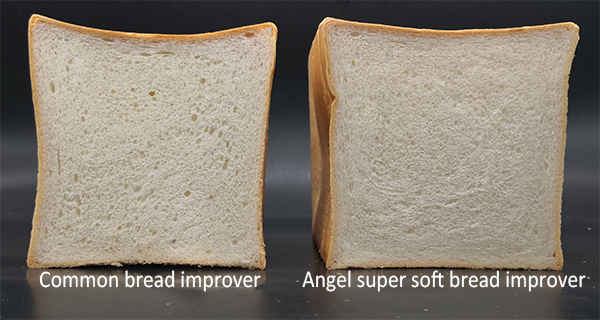 Remark: use 1% Angel super soft bread improver
Compared with common bread improver, Angel's super soft bread improver has more advantages in anti-aging, so it is the first choice for making long, medium and short size bread.
Application effects of Bakerdream Compound Bread Emulsifier:
Bakerdream Compound Bread Emulsifier 20kg*1, with illustration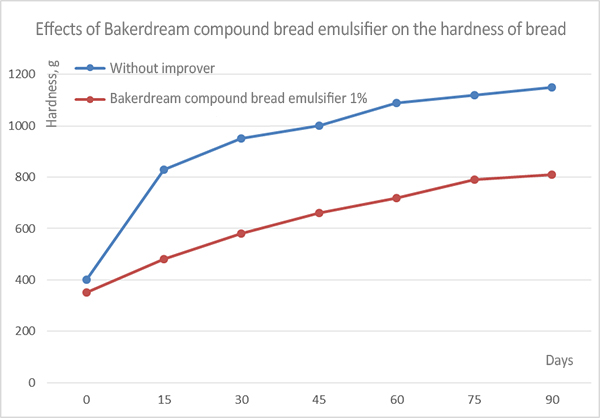 (Emulsifier dosage is 1%, the compared sample without improver added)
Remark:Because of the difference between powder improver and paste emulsifier in the test formula, conditions and raw materials, they can not be directly compared.
Published by RICK


Senior Engineer

Angel Baking Center
About Yeast & Baking
Angel Yeast has absorbed the essence of the global baking industry to build a baking service platform and to provide more comprehensive solutions for the baking industry.
About Angel:

Angel Yeast Company is a high-tech listed company specializing in yeast and biotech. Product business covers Yeast and Baking, Yeast Extract-Savoury, Nutrition & Health and Biotechnology fields. It is one of the world's leading companies in the yeast industry. Angel has 12 holding subsidiaries and provides products and services for more than 150 countries and regions.
Press contact:
Angel Yeast Co., Ltd.
Address: 168 Chengdong Avenue, Yichang, Hubei, P. R. China
Tel: +86-717-6369520
Fax: +86-717-6370680
Email: aie@angelyeast.com