April 21st, 2020
by Xiangqian Xiao
In recent years, the application of GroPro Aqua in aquatic products has attracted more and more attention, and also attracted the interest of researchers. Recently, the latest research results on GroPro Aqua were included in the SCI journal 'Aquaculture' with an impact factor of 3. 02 on April 6, 2020. This study tested the application of seven functional additives in low meal diet of olive flounder. GroPro Aqua is called yeast extract nucleotides(YEN)in this paper. The results showed that YEN (GroPro Aqua), GAB (gamma-aminobutyric acid) and SGS (song-gang stone) could be the most effective functional additives in the low fish meal diet of olive flounder.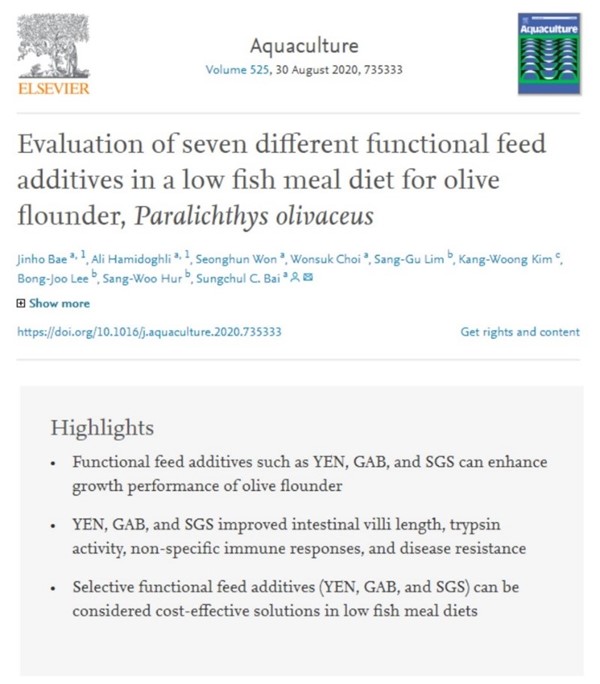 Title of the original paper:Evaluation of seven different functional feed additives in a low fish meal diet for olive flounder, Paralichthys olivaceus
In this paper, the role of GroPro Aqua in low meal diet of olive flounder is as follows:
- Improves production performance.
Under the same feeding amount, GroPro Aqua can significantly improve the weight gain rate, specific growth rate, feed and protein efficiency of olive flounder.
- Improve intestinal structure and function.
GroPro Aqua is rich in nucleic acids, which can promote the growth of intestinal microvilli, increase the length of intestinal microvilli, increase the absorption surface area of nutrients. At the same time, GroPro Aqua can improve the trypsin activity and the ability of protein digestion and absorption.
- Enhance immunity and disease resistance.
The β-glucan and nucleic acid contained in GroPro Aqua can improve the non-specific immunity of fish and regulate the expression level of Hsp70.
Above all, the publication of this paper further confirmed the function and role of GroPro Aqua as a protein raw material in aquaculture, and provided a basis for the application of GroPro Aqua in the diet with low fish meal of olive flounder.
---
About Fubon Animal Nutrition:
Fubon is a brand of Angel Animal Nutrition. Fubon is committed to developing natural, efficient microbial feed derived from the yeast with Angel's leading technology in yeast industry, providing the best service solutions for the nutrition and health in animals. Angel Animal Nutrition creates value for global feed and animal agriculture customers through continuously upgraded products and professional services.
About Angel:
Angel Yeast Company is a high-tech listed company specializing in yeast and biotech. Product business covers Yeast and Baking, Yeast Extract-Savoury, Nutrition & Health and Biotechnology fields. It is one of the world's leading companies in the yeast industry. Angel has 12 holding subsidiaries and provides products and services for more than 150 countries and regions.
Press contact:
ANGEL YEAST CO., LTD
Address: 168 Chengdong Avenue, Yichang, Hubei 443003, P. R.China
Tel: +86-717-6369520, 6369558
Fax: +86-717-6370680
email: aie@angelyeast.com