By Wan Boon Keng
Oct 14, 2022
From 11th to 13th October 2022, the Asian Federation of Societies for Lactic Acid Bacteria organized the 12th Asian Conference on Lactic Acid Bacteria (ACLAB12) at Borneo Convention Centre Sarawak (BCCK). The theme is evidence-based lactic acid bacteria: advances, opportunities, and challenges. Angel Yeast is very honored to be the gold sponsor in this conference and the response is overwhelming which included participants and speakers from Japan, Korea, Thailand, the Philippines, Mongolia, and others.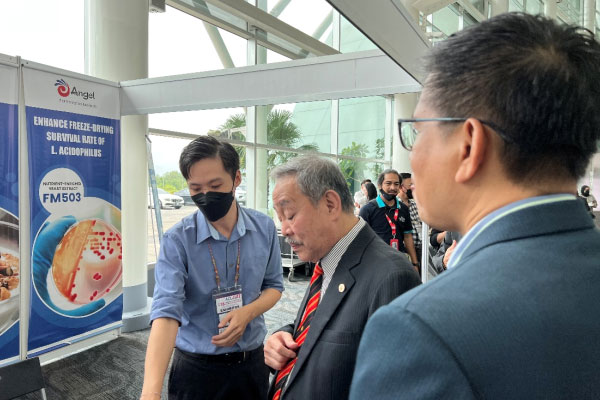 During the conference, many topics regarding lactic acid bacteria were presented and further discussed (such as postbiotics as a new frontier in healthcare, probiotic regulation in SEA, and shaping the future of lactic acid bacteria). As a gold sponsor, we take this opportunity to introduce our new products, FM986, and FM503 (yeast extract enriched with nucleotides) which address the needs of growing lactic acid bacteria and are widely accepted by audiences.
From this conference, Angel Yeast which specializes in fermentation nutrients is more exposed to lecturers, researchers, companies, and students. Products (yeast extract and yeast peptones) offered by Angel Yeast are high quality and cost-effective which helps them to solve their problems. The communications are both ways and effective. This conference was a success where the 13th Asian Conference on Lactic Acid Bacteria will be held in 2023 and we are looking forward to meeting with professionals again!
---
Angel Fermentation Nutrients, rich in protein, amino acids, peptides, nucleotides, B vitamins, and trace elements. With the advantages of having no allergic source and being non-transgenic, high efficiency, and stable quality, Angel YE are widely applied in biological laboratories and industrial-scale fermentation, promoting product safety and technical progress in the global fermentation industry.
About Angel:
Angel Yeast Company is a high-tech listed company specializing in yeast and biotech. Product business covers Yeast and Baking, Yeast Extract-Savoury, Nutrition & Health and Biotechnology fields. It is one of the world's leading companies in the yeast industry. Angel has 12 holding subsidiaries and provides products and services for more than 150 countries and regions.
Address: 168 Chengdong Avenue, Yichang, Hubei 443003, P. R.China
email: aie@angelyeast.com